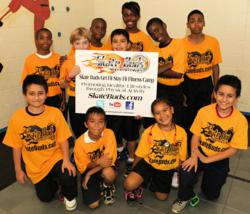 Skate Buds A New Generation of Fitness
Dallas, TX (PRWEB) December 02, 2011
Skate Buds, strap-on heel skates adjust to fit any type of athletic sport shoe, in any size. Skate Buds 5.0 have inline quality, polyurethane skate wheels, and three flashing lights. Skate Buds come in six unique colors (1) Pretty Pink, (2) Black Berry, (3) Blue Berry, (4)Emperor Gold, (5) Kiwi Green, and (6) Red Berry.
Recommended for kids ages 5 and up, Skate Buds, strap-on heel skates provides an opportunity to exercise for kids. Skate Buds allow kids the ability to walk, run, and heel skate providing an excellent opportunity for kids to receive moderate to vigorous intensity exercise daily.
At a retail price of $29.99, Skate Buds provides parents with an affordable option for a wonderfully unique Christmas gift.
Currently, Skate Buds International Corporation is sponsoring an after school, kids health fitness camp for the Boys and Girls Club of Greater Dallas. The Skate Buds Get Fit Stay Fit Fitness Camp is an eight week, two times per week, sixty minutes per workout, progressive style heatlh and fitness camp, designed to improve students' flexibility, balance, coordination, strength, and endurance.
Skate Buds strap-on heel skates provide a fun, safe opportunity for participants to receive physical activity and cardiovascular exercise each workout. Watch videos from Skate Buds Get Fit Stay Fit Fitness Camp on YouTube.
Contact Aaron Johnson of Skate Buds International Corporation, 214-622-1467, info(at)SkateBuds(dot)com.
Source Skate Buds International Corporation __title__ ]
###