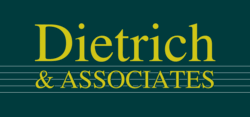 Plymouth Meeting, PA (PRWEB) December 05, 2011
According to Jay Dinunzio, Senior Consultant at Dietrich & Associates and the author of the new paper, "Pension cost and volatility issues have led to the "freezing" of benefits in almost half of corporate defined benefit pension plans. For this growing group of organizations, plan termination (and the associated required annuitization) is a clear objective that is challenged by recent low interest rates and unfunded liabilities. For many sponsors the next few years will be focused on de-risking their pension program in order to predictably fund the plan over a series of years. Inevitably, this shift will lead sponsors to shorten investment horizons and associated asset return targets, which may result in higher costs as a required trade-off to arrive at more certain outcomes. This paradigm shift towards liability driven investing in defined benefit plans is creating a compelling opportunity for insured pension risk transfer solutions to add significant value to the conversations that pension committees and consultants are having regarding fixed income investments."
"Pension Risk Transfer Solutions: Adding Guarantees to the Defined Benefit Fixed Income Conversation" provides an efficient introduction to a powerful new "guaranteed" asset class. Pension plan sponsors, investment consultants, actuaries, investment managers, and other pension service providers will find this paper an insightful addition to the rapidly evolving conversation surrounding pension risk and liability driven investing. The paper can be found at: https://www.dietrichassociates.com/emails/PRT_Spectrum/10-11_PRT_Spectrum.pdf
Dietrich & Associates is the largest provider of specialized institutional annuity placement services in the United States with an emphasis on risk mitigation, fiduciary guidance and compliance. Over the last thirty years Dietrich & Associates has assisted more than 1,600 pension plans with procuring customized institutional insurance contracts for pension plan terminations/settlements and guaranteed income for life options (Dietrich (k) Annuity™) for defined contribution plans. For more information visit us at http://www.dietrichassociates.com.
###