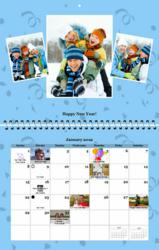 Their software is very easy to work with and gives you enough choices to personalize however you want! Their product is very high quality! Hope W.
Oshkosh, WI (PRWEB) December 01, 2011
CreatePhotoCalendars.com, a leading online photo calendar publisher has released a new online calendar creator program (EZ Studio) to help customers make 2012 photo calendars online in minutes.
EZ Studio Calendar Creator Key Features:

Create a photo calendar online from any computer with internet access
Add photos from your computer, Facebook, and Flickr and auto-fill them into your calendar
Import your friends birthdays and photos instantly from Facebook
Add your birthdays, anniversaries, and other special events.
Choose from over 500 backgrounds and 30 magical transparent backgrounds
Quickly see your photos arranged in over 100 layouts with dynamic layouts
Try it Free Today:
Please visit http://www.createphotocalendars.com and click the "Create Your Calendar" button.
About Create Photo Calendars
Founded in 2006, Create Photo Calendars is an internet company that gives families, fundraising organizations, animal shelters, businesses, schools, and churches an easy way to create custom photo calendars. Create your calendar quickly online in minutes or download our award-winning calendar creator software for full creative control. You can add photos, events, clipart, choose layouts, backgrounds, and more. Create Photo Calendars prints and produces all of their calendars in-house with no outsourcing which maximizes quality control and efficiency. Create Photo Calendars is owned and operated under Spectrum Software, Inc.
CreatePhotoCalendars.com
Owner by Spectrum Software, Inc.
4728 Gray Wolf Drive
Oshkosh, WI 54904
###