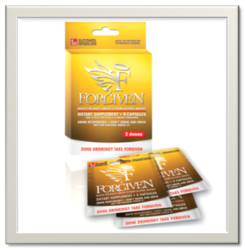 Atlanta, GA (PRWEB) December 01, 2011
Forgiven's newest guerilla marketing campaign, Quest for Forgiveness, will kick off this Thursday. Administered by their distributor, RH Laboratories, the contest is designed to appeal to their customer base of young, adventurous adults who are technologically savvy and active with social media.
Contestants register at QuestForForgiveness.com and then receive clues about a secret location through Facebook, Twitter, and email. Once contestants figure out where the secret location is, they must go there and submit a photo of themselves with the Forgiven brand name visible in the photo.
The first contestant to submit his/her photo will win lunch with BMX legend and MTV personality TJ Lavin. The second, third, fourth, and fifth contestants to submit valid entries will receive a free year-supply of Forgiven.
"Our customers are awesome people," says Forgiven co-owner TJ Lavin. "We're always looking for opportunities to interact with them on a personal level. Word-of-mouth is more important now than ever and promotions like this one capitalize on that. "
Forgiven and RH Labs plan to continue the promotion in cities across the country with prizes from to other celebrity endorsers.
About Forgiven Bottling Group
Chas Aday and TJ Lavin formed Forgiven Bottling Group in 2009. Their product, Forgiven, is the first and only product on the market that has been shown to increase the rate at which the body processes alcohol. In the initial clinical trial, the average increase in metabolic rate was over 500 percent. The product's proprietary blend of all-natural ingredients includes organic acids, amino acids, vitamins, and herbs that increase the body's metabolic rate while restoring the necessary amounts of essential vitamins and nutrients.
About RH Laboratories
RH Laboratories manufactures RockHard Weekend, an all-natural male sexual performance enhancer as well as Pandora, an all-natural sexual enhancer for women. RH Laboratories is constantly using innovative techniques to promote their products not only as supplements but also as a lifestyle. In addition to the products RH Labs manufactures, they are the exclusive distributor of Forgiven, the world's first alcohol metabolizer.
# # #