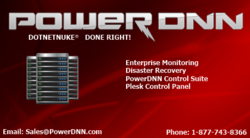 Bellevue, NE (PRWEB) December 01, 2011
PowerDNN is well known within the DotNetNuke community for providing top-notch service and support with their hosting packages. PowerDNN also provides a robust dedicated server environment.
The Dedicated Server environments provides PowerDNN clients with a stable, powerful and secure platform that is capable of handling many DotNetNuke sites. PowerDNN offers three different server tiers. Each tier can be customized with additional business features such as Advanced Monitoring and Disaster Recovery Backups. The PowerDNN DotNetNuke Automation Control Suite can also be added which is an exclusive benefit to PowerDNN customers. The baseline PowerDNN server starts at $280/mo and includes 24/7/365 Advanced DotNetNuke Support. It can be expanded to scale to hundreds of sites per server.
Until December 31, 2011 all new customers will receive three months for free on any new PowerDNN server signup. Any new customer will be able to take advantage of this promotion. The PowerDNN support team provides Migration Assistance to aide new customers who are transitioning from an existing hosting provider to PowerDNN. As Johnny Gregory Sales and Marketing Manager for PowerDNN states, "We are pleased to announce a great holiday special for customers looking to move to our dedicated server platform. Traditionally, this can be a very daunting transition, but with the assistance of our world class support team we make the transition painless."
About PowerDNN
PowerDNN, a DotNetNuke Gold Certified Partner, serves over 150,000 DotNetNuke websites and is the worlds largest DotNetNuke hosting provider. We specialize in enterprise business solutions for large organizations with complex hosting requirements. Websites we host include many of the largest DotNetNuke deployments in the world including the public-facing websites of Pier1Imports.com, LittleCaesars.com, and InfoGroup.com, as well as SECSports.com and NCAAFootball.com . Our 24/7 engineering team provides assistance and support for our customers worldwide. PowerDNN is privately held and is headquartered in Omaha, Nebraska with offices in Reno, NV as well Manchester, England.
About DotNetNuke Corp.
DotNetNuke software is used by developers, designers and business people to quickly build and easily maintain websites of all kinds. We are the number one Web content management solution in the Microsoft ecosystem -- more than 700,000 websites have been deployed worldwide using our products. Our online store speeds up this process by offering over 10,000 apps and add-ons that quickly and easily extend our product. Thousands of organizations like True Value, Bose, Cornell University, Glacier Water, Pier One Imports, El Camino Hospital and the City of Denver have leveraged DotNetNuke to deploy highly engaging business critical websites. There have been over 7 million downloads of our open source project, which fuels an active global community one million strong. The rapid growth of our commercial products resulted in DotNetNuke Corp. being named as one of the fastest growing private companies in America on the 2011 Inc. 500 list. Founded in 2006 and funded by Sierra Ventures, August Capital and Pelion Venture Partners, DotNetNuke Corp. is headquartered in San Mateo, California, with offices in Vancouver and Amsterdam.
DotNetNuke® and DNN® are registered trademarks of DNN Corp. All other registered and unregistered
###