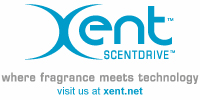 Xent is perfect for anyone, including those who are super stressed, or always 'on' or have to multi-task and juggle projects.
New York, NY (PRWEB) December 04, 2011
Research and development experts who created fragrance systems for Bath and Body Works®, and Victoria's Secret® and who helped develop new innovations for such brands as Glade®, Airwick® and Renuzit® have combined efforts and experience to bring Xent ScentDrive to the marketplace.
Xent ScentDrive is a unique aromatherapy device customized to satisfy an individual's fragrance preferences, and to enhance the user's own personal space. Unlike other plug-in fragrance devices, Xent ScentDrive is completely portable and durable, because its power source is the USB port on a laptop or desktop computer and it can be used in the power outlet of any automobile, with Xent's car charger to USB adapter.
The therapeutic benefits of treating the senses to pleasant aromatic bouquets have been known for centuries, but Xent ScentDrive is the newest innovation in creating a portable, fragrant environment.
Studies show that the average person spends between 5 and 8 hours a day in front of a computer. Xent ScentDrive delivers performance-enhancing and soothing scents through the USB port in a computer, which whether used primarily for business or pleasure, is such an integral part of modern life.
A full line of products has been developed by the experts at Xent to maximize a person's ability to function at optimum capacity during the time spent in front of a computer. The patented system ensures the release of the correct amount of fragrance to improve the environment surrounding the user and his/her computer, turning a Mac or PC into an aromatherapy spa.
The innovative USB fragrance device was designed specifically to enhance one's own personal space, while not intruding on those in close proximity.
Having difficulty concentrating while working in an office cubicle or dorm room? Fragrance notes of eucalyptus, mint and coriander have been combined to create the Stay Alert scent. To reduce stress and anxiety, and to relax with ease, lavender, cedar wood, and rosemary fragrances have been expertly blended to create the Be Calm product. Jasmine, bergamot and ginger notes facilitate clearer thinking through the Get Focused version.
Xent has also produced an auto adapter for the power port in a car, so that Xentcan be used to stay calm, cool and collected behind the wheel as well.
According to a Xent spokesperson, "Our product is an innovative USB fragrance diffuser that is powered by your computer and delivers clean, fresh and stimulating fragrances to your own personal space."
"Xent is perfect for anyone, including those who are super stressed, or always 'on' or have to multi-task and juggle tasks. Xent is also great for those who just want to relax, kick back and be in a pleasant environment while they write, design, edit, play games or catch up on people and events. As you do all these things in a digital world, the computer is the perfect host for the perfect personal energizer, relaxation aid, and attitude adjustment fragrancer… your very own personal Xent ScentDrive."
The Xent ScentDrive is offered only on line at http://www.xent.net
Contact: Robin Marshall, info(at)xent(dot)net, (347) 514 3255
http://www.xent.net
###