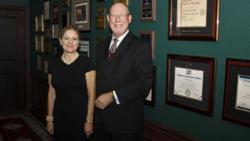 "With an ongoing turbulent equity market and the globalization of economies, investors and advisors need to keep both hands on the steering wheel."
Sarasota, Florida (PRWEB) December 01, 2011
Graveley Capital Management is pleased to announce its upcoming "First Year Anniversary" and celebration for receiving the 2011 "Five Star Wealth Manager" award. After opening an office for Edward Jones Investments on Siesta Key over ten years ago, Richard Graveley, the Managing Principal of Graveley Capital Management, decided he could better service his client's with the resources provided through the Wells Fargo Advisors Financial Network.
Mr. Graveley stated, "With an ongoing turbulent equity market and the globalization of economies, investors and advisors need to keep both hands on the steering wheel." The "buy and hold" investment strategy used by some provincial firms has itself become a risk to investors. The question that needs to be asked in today's environment is "buy when and hold till when?"
From here Graveley Capital Management's goal is to increase its office size in Sarasota and bring on additional qualified Financial Advisors who are looking for a more open investment and business environment. Plans also call for opening an additional office in the Central Florida area were the Practice has a growing business presence. Graveley went on to say, "As the financial markets continue to become more complicated for Investors, both pre-retirees and retirees are finding the need to seek out advisors who can provide more than just a cookie-cutter plan for their savings. After over twenty five years of investment experience, I believe our strength provides investors with a broad range of choices and options to grow and protect their money."
The Practice looks forward to the challenges ahead and is honored to have again received the Five Star Award which is determined based on client response surveys.
About Wells Fargo Advisors
With more than $1.2 trillion in client assets as of June 30, 2011, Wells Fargo's brokerage businesses comprise 15,194 full-service financial advisors and 3,795 licensed bankers. This vast network of advisors, one of the nation's largest, serves clients through offices in all 50 states and the District of Columbia. Wells Fargo Advisors is the trade name used by two separate registered broker-dealers and non-bank affiliates of Wells Fargo & Company: Wells Fargo Advisors, LLC and Wells Fargo Advisors Financial Network, LLC (members SIPC). Statistics include other broker-dealers of Wells Fargo & Company. http://www.wellsfargoadvisors.com
Investment products and services are offered through Wells Fargo Advisors Financial Network, LLC (WFAFN). [Practice Name] is a separate entity from WFAFN

The Survey was conducted by Crescendo, as an independent third-party research firm. They surveyed 15,000 consumers of the magazine and 650 Financial Service Professionals to evaluate the 2000 candidates in the Sarasota, FL area as the best in overall satisfaction Wealth managers. The evaluation was based on nine criteria, including customer service, integrity, knowledge/expertise, recommendations and overall satisfaction. After survey results are tallied, they take the top scoring candidates which represent less than 7% of their market and forward to a panel to further review a sample of the selection. Only wealth managers with five years experience in the financial services industry are considered.
The rating may not be representative of any one client's experience because the rating reflects an average of all, or a sample of all, of the experiences of the Financial Advisor's clients.
The rating is not indicative of the Financial Advisor's future performance.
Wealth managers may or may not use discretion in their practice and therefore ma y not manage their client's assets.
Please keep in mind that working with a FIVE STAR Wealth Manager is no guarantee as to the future investment success nor is there any guarantee that the selected Wealth managers will be awarded this accomplishment by Crescendo in the future.
For more information on the rating methodology,
go to http://www.fivestarprofessional.com/wmresearch/.
###