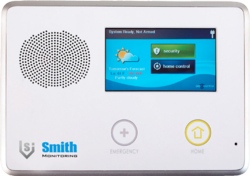 Dallas, TX (PRWEB) December 01, 2011
Smith Monitoring announced today their latest foray into the security automation market. Connectivity and automation are on the cutting edge of commercially-available security technology, and Smith's Smart Home package delivers both, at a price set to make it ubiquitous in both homes and businesses.
With its advanced monitoring and automation features, the Smart Home system is primed for businesses looking to step up their protection with an unprecedented level of communication and depth of monitoring. The Go!Control panel is the center of the system, allowing the user to access its features and change settings from any web-enabled computer or smartphone with the dedicated app. The panel sends updates to the user's cellphone and email, informing them of changes in the panel's settings, and alerting them of any warnings from the sensors. The built-in GSM chip gives it a secure wireless connection to cellular towers, ensuring that even if phone lines are cut, the system still operates as desired. Further, its Z-Wave technology creates a local wireless network within its area, connecting the various available modules; because it operates inside its own network, it causes no interruption of internet service or disruption of phone signals.
Dedicated door locks bind to the network, allowing the administrator to set schedules for times during which the doors can be unlocked, or remotely unlock a door for a delivery. Both a fixed-lens and a pan/tilt camera are available from Smith. The cameras connect to the network, streaming live or recorded video that is accessible through the Go!Control panel's protocols. A combination of the locks and cameras assures a well-secured and well-connected business, but there are more features available. Other modules include light/appliance controllers to manage appliance use or light fixtures even while away, a Smart Thermostat to remotely regulate temperatures or set a schedule to save energy and money, and a motion detector to set up in potential hazard areas. As a major player in the home security industry, Smith Monitoring provides the latest automation technology and comprehensive monitoring to its customers.
Smith Monitoring Inc. is headquartered in North Dallas and serves throughout Texas, Georgia, and California. Committed to giving back to the community that has given it success, Smith Monitoring has received the rank of A from the Better Business Bureau every year since its inception. Information about Smith's service, pricing, the refer-a-friend promotion, and more is available on the Smith Monitoring website.
# # #