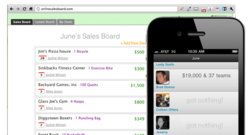 We've bridged the gap between sales tracking and employee motivation.
Lambertville, NJ (PRWEB) December 01, 2011
Online Sales Board (http://onlinesalesboard.com), a Sales Tracking and Leaderboard software created by a small sales team, launched its new product today. Online Sales Board is designed to do one thing; track and monitor the performance of sales teams on the go, further engaging and motivating sales reps.
"Online Sales Board is the first product of its kind that focuses solely on each sales reps sales history," says Online Sales Board CEO, Neal Cook. "Whiteboards used to do the job of ranking your top sales reps, but they have quickly become outdated, we saw the need for a mobile whiteboard that you could fit in your pocket, sparking friendly competition in the office. CRM tools are great for tracking leads and closing deals, but they do nothing to acknowledge the sales rep who worked their butt off to make that deal possible."
Online Sales Board provides businesses and sales teams the ability to:

Post and track completed deals online and on any mobile device (Android, iPhone, iPad) using our mobile web app.
Monitor real time sales numbers with their Real-Time Sales Board.
Engage and motivate their sales reps by using the Online Sales Leaderboard as their main hub where all sales are posted, and as their stomping ground (or where the winners are crowned.)
Create as many Leaderboards as you wish for multiple sales teams or for inside sales teams.
Customize e-mail notifications that automatically get sent to sales reps when they move up or down the Leaderboard.
Set their own goals by comparing their sales history from monthly, quarterly, and yearly.
Collaborate sales data between top management.
Online Sales Board was originally created by Front Rush LLC, an athletic recruiting software company, for their small sales team. They were amazed with the effectiveness of the product and were shocked at how quickly the entire company became tuned into Online Sales Board. Realizing this service could help thousands of businesses they expanded their idea.
Online Sales Board pricing model was designed with small businesses and startups in mind: plans range between $10 and $20 a month for the entire company.
About Online Sales Board
Online Sales Board is an online and mobile sales tracking tool for sales teams and small businesses. Who's going to the rule the Leaderboard in your office? Front Rush's first intern, Neal Cook, runs the newly launched company.
For more information, please visit onlinesalesboard.com
###