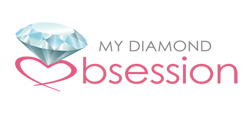 My Diamond Obsession launched with a passion for diamonds and a goal of revolutionizing the way consumers shop for diamond jewelry.
(PRWEB) December 01, 2011
MyDiamondObsession.com is an interactive website for diamond enthusiasts to research, learn, discover, and shop for diamond jewelry. The unique shopping experience is created in multiple ways through the company website. Some of the early customer favorites have been the trend report & diamond buzz blog, interactive style quiz, jewelry box, and the "obsessed" button.
The trend report is an in-depth review of the latest looks in the industry, which are handpicked by the company founder based on fashion trends. Users can also keep up with weekly micro-trends and read informative content about diamonds on the diamond buzz blog.
The interactive style quiz assists customers in determining their personal diamond jewelry style. Are you vintage, modern, classic, or bold? Each style can help shoppers discover their preferences and provide a new method for matching diamond pieces to an ensemble.
Love to receive diamond gifts? A unique feature offered by the site is the virtual jewelry box. Customers can add their favorite diamond items to their personalized jewelry box and send "hints" to loved ones before special occasions such as birthdays or anniversaries.
Finally, the site allows viewers to rate their favorite, or "most obsessed" diamond items by clicking the "obsessed" button. The site then displays the most obsessed items on the homepage so customers can see which pieces are trending.
My Diamond Obsession is highly selective of the diamond jewelry showcased on the website. They review thousands of items and carefully select pieces that stand out in styling, quality, and value for the consumer. The company provides its customers with both a premium product and experience.
Heather Cogburn, the company founder has been obsessed with jewelry her entire life. She has over 10 years of experience in the jewelry industry, first working for her parents in their independent jewelry store, and later through purchasing diamonds for a large retailer. Heather has dedicated the site to diamond enthusiasts. "Discovering new diamond styles and sharing with others is something I love to do," says Cogburn.
My Diamond Obsession believes that diamonds are worth the obsession and shopping for them should be fun! The site provides customers with high quality diamond jewelry to purchase, while providing up to date styling, trend reporting, and information about diamond jewelry to make it fun!
For a unique diamond jewelry shopping experience visit: http://www.mydiamondobsession.com
###