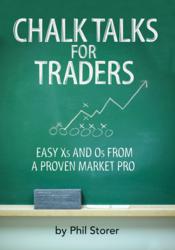 Whether you are an experienced trader or just about to start, you will benefit from this no-nonsense guide
Dallas, Texas (PRWEB) December 07, 2011
Commodities expert Phil Storer, Director of Commodity Trading for Dillon Gage, Inc., in Dallas, TX and author of "Chalk Talks For Traders: Easy Xs and Os From A Proven Pro" says, "You do not have to be a professional trader in order to be successful in the financial markets."
The secret is in the plan and the plan can be found in his book "Chalk Talk for Traders: Easy Xs and Os From A Proven Market Pro" (Brown Books Publishing Group).
An expert at predicting direction as well as the duration of time and distance that markets travel, Storer teaches readers how to identify a particular momentum in the markets then shows them simple ways to create a trade around that core.
Storer spells out the very basic principles to market decision-making in clear and simple language.
Readers will learn great trading tactics at a variety of levels:

Money Management
Market Direction
Mechanics
Market entries and exits
Protecting equity
Money flow
"Chalk Talks for Traders" provides easy-to-understand explanations for the essential techniques and analysis used by successful traders.
"Individual investors can succeed in the stock and commodities markets just like professional traders do if they will consistently apply these very basic principles to their market decision-making," says Storer.
Before you know it, readers will be able to easily spot potential trades and know immediately what the likely potential is and how much to risk. The exuberance that comes from that confidence will confirm they can look at a chart of your mutual fund, for example, and recognize when to enter and when to step aside.
Storer simplifies the process while maintaining integrity and credibility. If readers understand the proper methods and techniques to trading, and are disciplined enough to know when to pull out then they are half-way there.
To learn more visit: http://www.chalktalksfortraders.com
Chalk Talks For Traders in available online and bookstores everywhere
About Brown Books Publishing Group:
Brown Books Publishing Group is a Texas-based, independent publisher providing manuscript development, editorial expertise, website design, cover design, fulfillment and distribution, as well as marketing and public relations. A referral-only publisher, Brown Books has ushered in A New Era in Publishing™ where authors who've chosen to retain the rights to their intellectual property are invited to participate in the publishing process from start to finish. Relationship publishing is the mainstay of Brown Books Publishing Group and its many imprints: The Small Press, Brown Christian Press, Brown Books Digital, and Personal Profiles. For more information about BBPG visit http://www.brownbooks.com or to schedule an appointment with the publisher, Milli Brown, please contact Rayven Williams at rayven(at)brownbooks(dot)com or 972-381-0009.
###