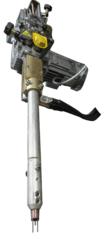 Productivity increases of up to 50% with reduced flux consumption of up to 20%
Florence SC (PRWEB) December 01, 2011
ESAB Welding and Cutting Products introduces ICE technology. ICE is a revolutionary submerged arc welding technology that enhances productivity by using an Integrated Cold Electrode.
ICE uses an Integrated Cold Electrode, which yields higher deposition rates without increasing heat input. Instead of adding more energy, ICE utilizes the excess heat already available to melt an additional non-powered welding electrode. This results in up to 50% higher deposition rates and up to 100% more productivity in root welds. ICE works with tandem welding application in root passes for superior penetration and high productivity.
Submerged arc welding is already the most productive welding process. However, productivity during sub arc welding can be inhibited by the need to limit heat input. With ICE, there is no additional heat input – the processes uses the heat already generated. This boosts productivity by up to 50%, depending on the application.
The increased deposition rate means higher welding speeds for greater productivity in a range of different applications. This productivity gain allows many applications to be completed with fewer runs. At a 50% higher deposition rate, this can reduce flux consumption by as much as 20%.
The increased deposition rate can also be used to increase welding speed. This increase in speed can significantly improve productivity in applications where welding speed is the key to maximizing productivity.
ICE technology enables the use of tandem welding in root passes, which results in improved penetration and high productivity. The need for back gouging is eliminated. This increases productivity up to 100% in root welding, depending on the application.
There are plenty of other savings too. Welding is highly energy-intensive. Any reduction in energy consumption offers significant environmental and financial benefits. The ability to achieve a dramatic increase in deposition rate with no additional energy input ensures an inevitable and substantial reduction in energy consumption.
Another productivity booster is the innovative Flat Cap Control™ feature. Fine adjustment to the ratio of 'cold wire' used for cap runs makes it possible to produce a flatter cap to the weld. The result: improved fatigue resistance and a reduction in the amount of post-weld treatment required.
ICE significantly improves productivity, which enables many applications to be completed with fewer runs. In this way, flux consumption can be reduced by up to 20% when welding with a 50% higher deposition rate.
ICE allows the user to boost output significantly without the investment in new welding systems, extra capacity, or additional skilled welding labor.
ICE reduces energy requirements, which ensures a smaller carbon footprint, resulting in more environmentally-friendly and lower-cost production.
The multiple gains offered by ICE technology stretch across a broad range of applications in many industries. These include major sectors such as the fabrication of on-and-offshore wind towers and other offshore components, pipe welding, general heavy fabrication and shipbuilding.
ESAB Welding & Cutting Products is one of the world's largest and most experienced manufacturers of welding and cutting equipment and welding filler metals. Recognized as the technological leader in the industry, ESAB is committed to providing cost effective solutions for its customers. For more information, visit http://www.esabna.com or call 1-800-ESAB-123.
###