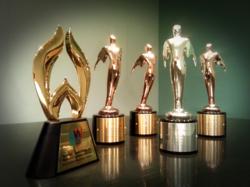 Whatever it takes to help our clients tell their story...and to make sure they always come out looking good
(PRWEB) December 07, 2011
Pixel Light http://www.pldm.com, a 20-year old specialty multimedia communications company serving the medical device, pharmaceutical and technology fields, garnered 4 Telly awards and 1 WebAward for recently completed work.
"It's great to receive industry recognition for these projects since each one showcases a different discipline – web, animation, interactive and video," said Carmine DeFalco, President and Creative Director of Pixel Light. "Our team works very hard to make every project a winner. This includes developing strong collaborative relationships with clients and making sure they always come out looking good."
The Web Marketing Association's WebAward recognizes the best web sites in 96 industries. The Telly Awards are the premier award honoring the finest in video and film productions. Winners represent the best work of advertising agencies, production companies, television stations, cable operators and corporate video departments throughout the world.
According to DeFalco, "more and more of our multimedia work is in the mobile device space. Developing iPad, iPhone and Android apps, and continually experimenting with new techniques like augmented reality, requires multi-discipline expertise…whatever it takes to help our clients tell their story."
About Pixel Light
Pixel Light Digital Media, Inc. is a specialty multimedia communications company. Our team helps marketers and educators tell their story using animation, video, interactive and mobile technologies. Check out our 20th anniversary site http://www.pldm.com/20th
For further information, contact Dave Snyder, 201.804.0606 x102 - info(at)pldm(dot)com
###