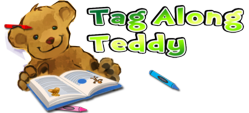 They're cute, cuddly and instantly gains the interest of both parents and kids alike.
San Francisco, CA (PRWEB) December 01, 2011
A brand new company, Tag Along Teddy – http://www.tagalongteddy.com has hit the market like a meteor shower. Children are instantaneously drawn to this latest trend.
Tag Along Teddy is an innovative teddy bear backpack. It was designed with the inspiration that children's bags should be fun as well as functional. Teddy bears are easily fastened to backpacks by three Velcro straps, one strap around each shoulder and the other strap around the teddy bear's waist. Tag Along Teddy backpacks come in two different sizes, toddler size for young children and standard size for older children. Their products are made of 100% polyester fibers so they're lightweight and easily manageable. Currently there are four different Tag Along Teddy plush doll backpacks on the market, Mister Monkey, Timit Tiger, Kye the Koala, and Diggity Dog. More animal designs are in the making. All of the Tag Along Teddy products are safe, durable, and machine washable.
Tag Along Teddy was created for preschool to school age children. The main concept was to design merchandise that would allow kids to bring their lovable teddy bear toys with them everywhere without their parents encountering the typical toddler temper-tantrums for having to say no because bringing toys to some places aren't always appropriate. President and Founder, DeNay S. Thomas-Ramsey realize the battles parents will have with their young children over fashion selection and getting that feeling of guilt for having to force them to leave their favorite toys at home. "Young kids don't always empathize with the notion that toys aren't acceptable everywhere, like school. Tag Along Teddy products elude this rule because they are fashionable teddy bear backpacks designed in particular for school as well as everyday wear," said Ramsey. Feedback from customers has been astoundingly positive. "I love my Mister Monkey," said one three year old child. One parent said, "my daughter carries her backpack to school every day and is continuously flocked with questions from other students about where to get one." Visit the Tag Along Teddy website, http://www.tagalongteddy.com to get more information about the company or to purchase some of their products.
Tag Along Teddy was founded in 2011. Presently retail outlets are being opened throughout various San Francisco Bay Area shopping centers. In addition to backpacks, matching baseball caps and book covers are also available to complete the outfit or they can be purchased individually. The baseball caps and book covers are affixed with teddy bear heads sewn to the front. The book covers are standard 8-1/2 "x 11" textbook size. The baseball caps have an adjustable strap for sizing. For more personal inquiries, please contact Tag Along Teddy by email at info(at)tagalongteddy(dot)com.
# # #