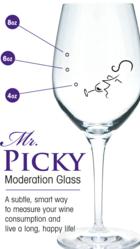 So drink up (but only to the dot) with the Mr. Picky® Wine Glass and enjoy great health, the sensible way!
Santa Barbara, CA (PRWEB) December 01, 2011
Following the release of a popular suite of Mr Picky® Wine Tasting iPhone Apps two years ago, Mallen Designs has done it again with a new creation.
For those who follow the Sonoma Diet, Weight Watchers, Mayo Clinic or American Heart Association guidelines, the buzz word these days is moderation. The Mr. Picky® Moderation Wine Glass is a subtle way of measuring wine consumption in a stylish glass. Those familiar with the Mr Picky® Wine Tasting iPhone Apps will love the abstract version of the Mr Picky® logo. Moderating intake encourages consumers to be selective about the wine they drink, which is what Mr Picky® is all about.
Connie Guttersen, R.D., Ph. D, an internationally renowned registered dietitian, and nutrition instructor at the world-famous Culinary Institute of America, and New York Times bestselling author of The New Sonoma Diet and The New Sonoma Diet Cookbook, put it this way:
"We love the Mr. Picky® Moderation Wine Glass. What a great idea to help people enjoy their delicious wine by keeping it easy to stay mindful and aware of just how much you are actually serving yourself. It is so interesting how easy it is to underestimate how much you really are drinking, especially for those of us who LOVE wine! After all, balance is the best way, as we know from the healthy Sonoma Philosophy."
Internationally recognized Cardiothoracic Surgeon, Steven R. Gundry, MD, former Professor and Chairman of Cardiothoracic Surgery at Loma Linda University, inventor of several lifesaving heart devices and current Medical Director and founder of The International Heart and Lung Institute in Palm Springs, California had this to say:
"As readers of my book, "Dr Gundry's Diet Evolution" know, I am a big fan of the health benefits of wine, particularly red wine. I strongly urge those who can tolerate alcohol to have one or two glasses of red wine daily. But what exactly is "a glass"? Unfortunately, I have found that my patients greatly underestimate how much they drink, with bad consequences for their health and their weight. Guess what? A "glass" is 4 or 5 ounces of wine. How much is enough, how much is too much? Well, the ingenious folks at Mr. Picky® have solved your problem! The Mr. Picky® Wine glass has discrete bubbles/dots on the side showing 4, 6, and 8 ounces, all embossed on a lovely to hold, elegant stemware. What a great gift for yourself, or your wine loving friends. Have a wine tasting party, and shock people with just how 4 ounces of wine is not much! I'm giving some Mr. Picky® wine glasses to my 85-year-old parents for Christmas. With these in hand, and my book, they will sail into their 100's and remember every moment! So drink up (but only to the dot) with the Mr. Picky® Wine Glass and enjoy great health, the sensible way!"
The Mr. Picky® Moderation Glass offers these special features:

Discrete bubbles measure 4, 6, and 8 oz
Fine lead-free crystal from a Riedel owned factory in Germany
Dishwasher safe
A subtle easy way to measure consumption
The glasses are available for purchase at Mr-Picky.com.
Hailing from the beautiful Santa Barbara wine country, the inventors of the Mr Picky® Moderation Wine glass, David & Patti Mallen of Mallen Designs, said "We love great wine and Iove being healthy. We wanted a way to help people do both, to have their wine and drink it too. Cheers!"
About Mallen Designs
Founded in 2009, Mallen Designs is the developer of Mr Picky® Food & Wine Aficionado Website (mr-picky.com), which offers food and wine-related articles. Mr. Picky is also the creator of a popular suite of iPhone wine tasting apps promoting wineries and restaurants and an innovator of wine-related products such as the Mr Picky® Moderation Wine Glass.
# # #