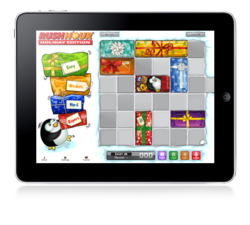 "Everyone can use a little extra holiday fun! Each of these 400 special edition challenges will leave you feeling smart, confident, and ready to take on the next - I dare you to play just one!"

- Bill Ritchie, CEO & Co-Founder, ThinkFun
Alexandria, VA (PRWEB) December 01, 2011
In celebration of the season, ThinkFun® Inc., the world's leading designer of addictively fun games that sharpen your mind, announced that it's newest app, "Rush Hour®: Holiday Edition" is now available for Apple and Android.
Rush Hour: Holiday Edition gives ThinkFun's classic brain game Rush Hour a complete redesign with seasonal graphics, 400 never-released challenges, four levels of play from Easy to Expert, and a whimsical holiday theme.

An Addictively Fun Holiday Treat *
Rush Hour: Holiday Edition is the perfect holiday treat for puzzle lovers and Rush Hour fans alike.
Your goal is simple, help Peppy the Penguin slide his red toboggan through the pile of presents. As you get better, the maze of presents gets more and more complex, and you'll have to plan your moves carefully to break the little penguin free.
ThinkFun's original Rush Hour app has won multiple awards, including a Parents' Choice Gold Award for Excellence in Mobile Play, an Oppenheim Toy Portfolio Gold Seal Award, an Editor's Choice Award from Children's Technology Review, and it is one of Babble.com's Top 25 Android Apps for Kids.
Rush Hour isn't just for kids though – it's just as fun for adults too. The Rush Hour game is a great brain training exercise and a past winner of the Mensa Mind Games competition.
Feed Your Brain, Not Your Belly This Season *
Rush Hour is the original sliding block Traffic Jam puzzle – and still the best!
Rush Hour: Holiday Edition is the newest member of the Rush Hour family, which includes the original Rush Hour game, the world's most successful logic puzzle; Rush Hour Jr, designed specifically for players 6 and up; and the classic Rush Hour app, with over 1.5 million downloads to date.
For Apple and Android Platforms *
Rush Hour: Holiday Edition is available for iPhone, iPad, iPod Touch as well as Android. It contains 400 all new challenges from Easy to Expert and costs $1.99. Download it from the Apple App Store, Android Marketplace, or Amazon's App Store. This special edition of Rush Hour will only be available though the holiday season.
A free version of the classic Rush Hour app, with 35 challenges across 4 levels from Beginner to Expert, is also available.
The apps can be downloaded from http://www.itunes.com/appstore, http://www.amazon.com/appstore , or https://market.android.com.
The Rush Hour board game is currently available from major retailers for $19.99 and is available here: http://www.thinkfun.com/rushhour.
About ThinkFun
ThinkFun Inc. is the world's leader in addictively fun games that challenge your mind. Over 25 years ago, ThinkFun was founded with a dream that we could change the world through play. We continue to expand on that dream every day with games, brainteasers, mobile apps, online games and global education programs. To learn more, go to http://www.thinkfun.com.
ThinkFun®, the ThinkFun logo, Rush Hour®, and Traffic Jam® are trademarks or registered trademarks of ThinkFun Inc. All other trademarks are property of their respective owners. Copyright © 2011 ThinkFun, Inc. All rights reserved.
# # #