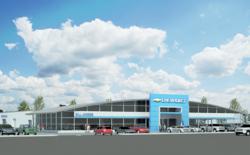 Plainfield, Illinois (PRWEB) December 01, 2011
Bill Jacobs Plainfield- one of the leading Chevy dealerships in Plainfield, Illinois is preparing to start construction on rebuilding their facility. Bill Jacobs Chevy Plainfield has been in business for 25 years and will now be able to serve customers even better by having an updated, state-of-the-art facility in Plainfield, IL. Chevrolet just celebrated their 100th birthday and Bill Jacobs Plainfield wants to keep the celebrations going with the new facility.
Bill Jacobs Plainfield is celebrating Chevy's new sales event as well called, "Chevy's Giving More." There will be many great deals at the dealership and Bill Jacobs Plainfield is giving even more by getting a facelift for the customers. The new building will be able to help customers and the Plainfield community even more than the dealership was able to do before.
Bill Jacobs Plainfield has a large selection of Chevy vehicles in Plainfield, IL. The dealership carries the entire Chevy lineup and has many used cars in Plainfield as well. Stop by Bill Jacobs Plainfield or visit http://www.billjacobsplainfield.com today to find out how to get a better deal on a new or used vehicle.
###