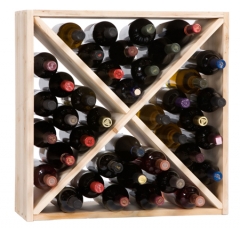 Olympia, WA (PRWEB) December 01, 2011
The winter holidays are known as the season of giving, but for the WineRackStore.com, contributions are made all year long.
The WineRackStore.com works with clients from across the United States and beyond and the causes they support are certainly reflections of their customers geographically. In 2011 alone, they have made donations to such causes as Boys & Girls Club, Concern for Animals, various Universities in Washington and California and make an ongoing contribution from sales of Breast Cancer Awareness wine charms to Breast Cancer Research.
"We are really open minded about what types of causes need our support and give many different charities the benefit of raising money through the donation of our products," said Heather Hoskins, Director of Communications.
When possible, the staff of the WineRackStore.com attends the various fundraising functions where their products are involved. "Our donations go out country wide, so it's a real treat to be able to see our products in action when a fundraising opportunity is held locally," said Hoskins.
Donations of products are mixed between solicited requests and causes that hold significant importance to the employees of the WineRackStore.com
WineRackStore.com sells quality pre-made and custom built wine racks, cellars and wine accessories since 1995. WineRackStore.com is A+ rated from the Better Business Bureau. All products are locally crafted in Olympia, WA and are shipped free anywhere in the U.S.A.
###