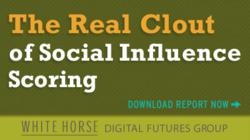 "What counts as persuasion in scholarship may not be the same as that in popular music or in electronics sales," says Reese, "just as what counts in online vs. offline activity may also vary in important ways across divergent areas of activity."
Portland, OR (PRWEB) December 01, 2011
Digital agency White Horse's in-depth examination of four popular social influence metric scoring systems, Klout, Empire Avenue, PeerIndex and PROskore, has revealed that additional qualitative methods are required to show true effectiveness of social influence. The report, "The Real Clout of Social Influence Scoring" by Will Reese, explores the psychology of influence behind the systems.
As seen recently from user comments when Klout updated its scoring system, social scoring systems carry influence with at least their own users. Although highly touted and, in many cases, given significant weight, social scoring systems are a cloudy measurement of true influence. This is due, in part, to secretive scoring practices (i.e. – "mystification") of measurement in order to prevent users from "gaming," or artificially manipulating, scoring systems. Additionally, current social influence scoring systems are quantative, which demonstrates relative mass of influence, but does not provide information necessary to accurately refine a social media strategy.
White Horse recommends a qualitative method to achieve best practical measurement of social influence. "What counts as persuasion in scholarship may not be the same as that in popular music or in electronics sales," says Reese, "just as what counts in online vs. offline activity may also vary in important ways across divergent areas of activity." An outline of suggested qualitative methods is provided in the report, as well as recommendations for how users should combine social influence metrics with other, multiple metrics to deliver understanding in addition to the relative idea of "clout."
"The Real Clout of Social Influence Scoring" is part of a series of marketing research reports produced by White Horse's Digital Futures Group. Led by a cultural anthropologist, Will Reese, Ph.D., the Digital Futures Group analyzes consumer behavior in new technology adoption, with an emphasis on mobile experiences. Other reports include: "Mobile Readiness Scorecard," "Mobile Development Guidelines for Government Agencies" and "Lost in Geolocation" which are located at: whitehorse.com/resources/
About White Horse
White Horse is a 31-year-old digital marketing agency relentlessly committed to delivering the optimal consumer experience across all digital channels. White Horse services include digital strategy, Web development, digital marketing, technical engineering, social media, mobile, and audio/video production. View the White Horse portfolio.
http://www.whitehorse.com | Twitter: @whitehorsepdx | White Horse on Facebook | Google+
WBENC #252895 EDWOSB
###