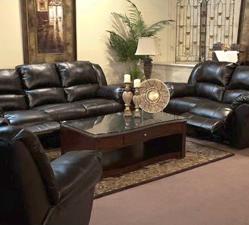 We are really excited to be able to provide our customers with one of the most popular sofas that we thought was going to be gone forever.
Golden, CO (PRWEB) December 15, 2011
SofasandSectionals.com, one of the InteriorMark brand stores and the industry-leading online retailer of high quality living room furniture, is pleased to announce they are offering the Lane Chance sofa group as an in-stock item available to ship within 48 hours of order.
The renowned Lane Chance sofa group is based on one of the most popular frame styles ever made, the 13200 by Berkline, who closed their doors permanently in April 2011. This reclining sofa group is now available at SofasandSectionals.com in beautiful rich brown bonded leather in limited quantities.
Lane is now producing this top selling style and it is available to ship within 48 hours of ordering from the SofaAndSectionals.com distribution center in Golden, Colorado. This collection is available exclusively as part of their Quick Ship program on selected in-stock items. It is free to customers within the United States.
SofasandSectionals.com has secured limited quantities of the Lane Chance in versatile Espresso Brown rich bonded leather upholstery. The chance is available in matching sofa, loveseat, and recliner. Consumers can now complete their living rooms with this easy-going sofa group. This bonded leather is not only beautiful but also extremely durable. It is the perfect choice for anyone looking to put any wear and tear on their furniture.
"We are really excited to be able to provide our customers with one of the most popular sofas that we thought was going to be gone forever," said Kristen Linden, SofasandSectionals.com Web Store Manager. "For Lane to step in and start making this product, and give us the ability to provide this price and service, is really a great thing."
The Lane Chance is available now at SofasandSectionals.com at extremely discounted prices off of normal retail. The versatility of the Espresso Brown bonded leather makes it especially attractive, particularly with free shipping and the company's ability to deliver so quickly. Available SKUs include the reclining three seat sofa with optional power recline, reclining loveseat with optional power recline, and recliner with optional power recline. The patented Wallhugger design allows you to place the reclining seats within three inches of the wall.
Consumers shopping on SofasandSectionals.com encounter a huge online catalog of living room products, including the Lane Chance and other In Stock models. The website makes it easy to sort by product type or brand. There are also featured design tips, related products, and other helpful information. Customers will find Lane and other best-selling brands including Franklin, Klaussner, Palliser, and Moroni.
About SofasandSectionals.com – SofasandSectionals.com is a division of InteriorMark, LLC, the leading online retailer of home furnishings such as sofa and sectional collections, home theater seating and accessories, entertainment centers, bedroom furniture and home accessories. InteriorMark, LLC specializes in providing high quality furniture choices for home living spaces, bedrooms and dedicated home theater spaces. InteriorMark, LLC is a member of the National Home Furnishing Association and is proud to be an A-rated member of the Better Business Bureau.
# # #