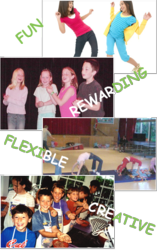 Students will receive the same challenging curriculum that is offered in their school programs and have the benefit of being in a comfortable place and surrounded by friends.
San Fernando Valley and Los Angeles, CA (PRWEB) December 07, 2011
StarChild Elite Inc. is a non-profit enrichment arts program based in the LA area. Although they already provide fun and exciting activities to hundreds of students in schools throughout the city, they are now also offering private on-location classes for a more flexible but equally rewarding experience. This is a great option for students being home-schooled because they have the opportunity to take the classes for elective credits.
Enrolling in a class is easy. The key is, you are in control.
First the parent should, request an enrollment package and be sure to check the Private Enrichment box on the "Contact Us" page.
Second, parents have the opportunity to create a group with fellow classmates and friends or opt for the more personalized individual classes. Groups can be as large or as small as preferred –discounts are given for groups of 6 or more students.
Third, pick the class or classes of interest. Classes and descriptions are listed under the "Enrichment Classes" portion of the website and a potential student can choose any class from the list of options. These classes range from dance to cooking and everything in between.
Fourth, decide on a location and time. Classes can take place in the students' home, at a church or local community center, or any qualified location that the parent prefers. StarChild Elite even has staff on call who helps you designate the class space.
After that, let the fun and learning begin! Once a week, one of the SCE instructors will arrive with all the materials necessary to provide a fun, educational, and creative session. Students will receive the same challenging curriculum that is offered in their school programs but will have the benefit of being surrounded by friends, in a comfortable place. At the end of the program, a "Mini Production" is hosted that allows the students to showcase their accomplishments for friends and family.
For more info, please go to http://www.StarChildElite.com or email Office(at)StarChildElite(dot)com.
###