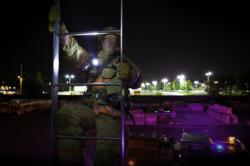 All you have to do is hold a LED Lenser in your hand to understand the quality and the design excellence of these engineering marvels
Malvern, PA (PRWEB) December 01, 2011
SportHitech launches retail sales of one of the finest flashlight product lines in the World - LED Lenser.
Sam Pearce, the VP of Marketing for Skyway International Inc's SportHiTech Division, said "All you have to do is hold a LED Lenser in your hand to understand the quality and the design excellence of these engineering marvels. Ever since using an LED Lenser myself, I can't imagine buying any other flashlight"
With models starting at under $20 including shipping from SportHiTech, there's a LED Lenser for everyone's budget. See the initial range offered on SportHiTech's Website.
The LED Lenser story is a fascinating one of true entrepreneurship. In 1993, the bank refused to grant twin brothers Rainer and Harald Opolka a business loan, and they had no real estate to offer as collateral, just fresh ideas and the prototype of the first LED Lenser V8 flashlight. For the gentlemen at the bank, who told them that the V8 was unsellable, that wasn't enough. So In 1994, with 1,000 DM, a sketch book, toolbox and old Atari® computer, they struck out on their own and founded LED Lenser in their garage in Germany. With all the passion and courage of two young, newly-minted entrepreneurs, they managed without the bank and to their own surprise ended up selling more than 200 million Euros' worth of LED flashlights in the first five years. The V8 became an international design classic and one of the the top-selling LED flashlights in the world. Now as they like to say, "We are our own bank." As if to remind anyone of this who might happen by, today a lone, tattered, pirate flag waves over their Solingen headquarters.
Fast forward 17 years, hundreds of patents and design awards later, and LED Lenser a company of more than 1000 employees, three manufacturing bases and a range of some of the world's highest-quality LED flashlights.
The SportHiTech Division of Skyway International Inc is dedicated to sourcing and marketing innovative high technology products for its customers through its online web portal at http://www.sporthitech.com
# # #