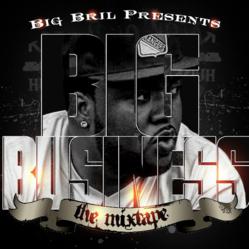 Miami, FL (PRWEB) December 01, 2011
Rap artist Big Bril recently released his mixtape "Big Business." Coast 2 Coast Mixtapes presents the project in association with Prestige Clientele Mgmt., and it is now available for free download. "Big Business" features Big Bril on tracks with T-O, Chamber, and J-Hood. Production is added by Quest.
Big Bril AKA Young Paparazzi is a truly polished artist with the ability to touch on a wide range of subjects. Raised in Newark, New Jersey, which is known for being one of the hardest cities in the nation, hasn't stopped this artist from making a better life for himself and making his own path. Never claiming things in his lyrics that aren't true to his life, Big Bril has found that music has been what he wants to focus on.
What stands out most about his style is his originality; as his hood, life experiences, and family all play a major role in his music. His superior songwriting ability is evident in tracks like "Coming Home," "Gettin' It," "Gwoppington," "Swagga on a Hundred," and of course, "Paparazzi Song (Oh So Flashy)," which has had the streets buzzing. Big Bril has released a number of prior mixtapes, including "The Massacre" and "Say Cheese Vol. 2."
Prestige Clientèle Mgmt., LLC is a personal management company with a commitment to further the careers of our artists. We operate in all aspects of the music business, from artist to songwriters to producers. We specialize in artist management, artist development, studio time, and deal shopping. Our artists are always assured that their creativity comes first. It is our job to groom that creativity and put them in a situation where it is published and heard by the masses
"Big Business" is available for free streaming and download at http://coast2coastmixtapes.com/mixtapes/mixtapedetail.aspx/big-bril-big-business.
# # #