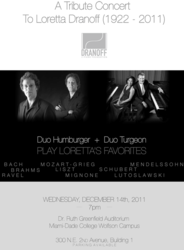 Miami, Florida (PRWEB) December 01, 2011
The Dranoff International Two Piano Foundation will present a concert featuring two prize winning duos - Canadian DuoTurgeon, 1st prize winners of the 1997 Dranoff International Two Piano Competition, and German Duo Humburger, 3rd prize winners in 2008. The musical menu will run the gamut from Bach to Schubert and from Rachmaninoff to Lutoslawsky.
Loretta Dranoff single-handedly started The Dranoff International Two Piano Foundation and Competition in Miami and began a renaissance of two piano music in this country. Over the years, music lovers from everywhere have flocked to Miami to be a part of the astounding experience of the Dranoff Competition.
Since its inception in 1987, the competition has been judged by world-renowned pianists, pedagogues, critics and journalists. It has introduced 64 brilliant young pianists to audiences in Miami and all over the world. The Dranoff Competition has the distinction of being one of only 7 in the U.S. that is accredited by the Federation of International Music Competitions in Geneva, Switzerland.
Loretta Dranoff died in New York City on July 4. The Dranoff will pay homage to her life with this magnificent concert to be held on December 14 at 7pm in the Ruth Greenfield Auditorium of the Miami-Dade College Wolfson Campus, 300 N.E. 2nd Avenue, Building 1, Miami, Florida.
Tickets are free, but required.
Please go to http://www.dranoff2piano.org or call 305 572 9900.
###