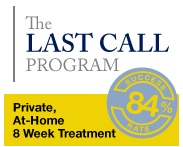 Once I was able to eliminate the cravings, then I was able to fulfill my desire. I could make a commitment to myself and control it as opposed to it controlling me.
(PRWEB) December 01, 2011
The Last Call Program offers a new form of treatment for people suffering from overdrinking and even severe alcoholism, specifically targeting the chemical imbalance in the brain that is found when people abuse alcohol. A proprietary compound called Sobrexa is at the center of this treatment and is responsible for suppressing the urge to drink alcohol in excessive amounts. Sobrexa can be taken over a period of eight weeks and in the comfort of the client's home – a method that many people may prefer over more conventional or public forms of treatment.
There are many reasons why people feel the need to drink. Some find that having the odd drink at the end of a long day helps them to relax and de-stress after many hours of work. Others simply enjoy drinking when they are out socializing with friends or work colleagues. Drinking is a perfectly acceptable way to unwind in moderation, but in certain people, over time, it can lead to dependency on alcohol, and other drink-related symptoms such as liver disease, neurological damage, high blood pressure, weight gain and more.
It is a known scientific fact in recent neuro-addiction research that when an individual has unusual cravings for excess alcohol that is directly related to a chemical issue. The brain chemistry is responsible for the triggers associated with the desire to consume more than one should. Unfortunately, most individuals fail when they try to use will power or guilt to combat a chemical issue, leading to more frustration and unnecessary hopelessness.
When people are faced with alcohol addiction, even in mild forms, they may attempt several traditional methods to stop drinking (or at least cut down on their consumption) and are disappointed to find that those methods are often ineffective. Before The Last Call Program and Sobrexa became available, many people used conventional forms of treatment, which have worked to varying degrees. But many people are now looking for a way to treat their problem discreetly and without the need to alert family members and co-workers. Furthermore, they want something that is proven to fight their addiction quickly and effectively, that will allow them to continue their daily lives without disruption and return to a state of normalcy.
Fortunately, with the help of The Last Call Program and Sobrexa, alcohol dependency can be dealt with directly at the source, namely, in the brain itself. Sobrexa works by safely decreasing the effects of the naturally occurring excitatory neurotransmitter, glutamate. Over a short period of time this has been observed to lower excess alcohol cravings and return the brain to its original balanced state. After taking part in The Last Call Program clients noted that they felt perfectly confident attending old no-go events such as bar get-togethers, weddings, and parties. And what's more, throughout hundreds of case studies no side effects or interactions with pharmaceutical drugs were reported.
When people take part in The Last Call Program they will be given a kit that contains an eight-week supply of the dietary compound Sobrexa, a second compound called Kalmaro, which provides a calming effect and increases concentration and the ability to focus, and a Last Call Exercise DVD that works in tandem with the supplements and brings balance and relaxation. This three-step program offers clients the best way to tackle alcohol addiction head-on and work towards removing all cravings of drinking, even in the strongest cases of dependency.
# # #