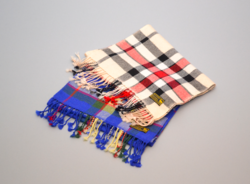 Pamper Yourself In Style
Greater New York City Area (PRWEB) December 01, 2011
HOP Brand from Home Of Pashmina is the defacto standard for Fine Cashmere Pashminas worldwide. Designed in USA and made in Asia, these Pashminas are very popular among all age groups. HOP brand carries quality Cashmere and Silk Cashmere Pashminas that are both warm and stylish exactly true to their tag line "Pamper Yourself In Style".
Up till now HOP Cashmere brand was catering to mainly women clients with its beautiful Pashminas, however on popular demand, Home Of Pashmina is introducing a new Mens Cashmere Scarves collection. Made with 100% Pure Cashmere, these scarves will be available in various designs - namely Cashmere Plaids, Stripes and Solid Colors. Each HOP scarf is made with 100 grams (3.5 Ounces) of Grade A Cashmere in thick 4 Ply weave, 12 inch by 66 inch or 72 inch in size and finished with 4 inch tassels. So far they have 5 unique plaid designs, 3-4 stripe designs and some solid colors that are sure to attract a lot of attention from professionals of all ages.
Anu C - President of Home Of Pashmina and owner of HOP Cashmere brand is excited about this new launch - "We have been getting many requests to come up with Mens Collection in Pashmina Cashmere variety. It takes a lot of planning and preparation to start a new collection and I am glad we are able to launch this collection for 2011 Holiday Season. We hope our customers will be able to appreciate the designs that we have included in this collection and are sure to grow the collection in 2012.".
Home Of Pashmina and HOP Cashmere brand continues to grow in popularity and variety and will soon be launching more varieties of Designer Pashminas in association with some design houses based in New York and India. Stay tuned for more such announcements in 2012 and meanwhile - "Pamper Yourself In Style".
About Home Of Pashmina
Home Of Pashmina is a New York area based Cashmere Pashmina Design/Import House and owner of HOP Cashmere Brand. Home Of Pashmina conducts its Pashmina business on-line at homeofpashmina.com, through marketing events in the Tri-State area and through high end fashion boutiques around the country. Anu C – President of Home Of Pashmina has many years of experience as merchandiser in a apparel manufacture and export company in India and is a Pashmina Enthusiast. Anu has also appeared in New York Area magazines as a upcoming women entrepreneur and Pashmina lover.
For more information about Home Of Pashmina or to order a press kit, please contact:
Anu Chandwani
Telephone: 800-757-2297
Email: ac(at)homeofpashmina(dot)com
Online: homeofpashmina.com
###