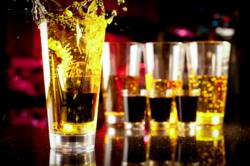 After being served a premixed curdled Irish Car Bomb, we decided there had to be a better way.
Baltimore, Maryland (PRWEB) December 15, 2011
Power-Bomber glasses, a new type of glassware specifically intended for alcoholic "bomb drinks" are a combination of extremely durable pint and shot glasses with a patented magnetic design that enables the shot glass to remain inside the pint glass even when upside down (defying gravity when being consumed), are being introduced to the market just in time for Christmas and New Years.
Bomb drinks are specific combination of particular liquors dropped into a particular beer or mixer that must be consumed immediately for best results, such as "Irish Car Bombs" or "Jager Bombs"; which are used not only to achieve a particular flavor, but also to enhance the jovial social aspects of cheers-ing before consuming a beverage. Unfortunately the dangers of frailer glass products (standard shot and pint glasses) shattering and/or the shot glass falling back out during consumption (possibly chipping a tooth) have caused many establishments/people to only offer the drinks premixed; thus cheating the consumer out of the normal drink volume, the desired taste/consistency, and most importantly the excitement of the experience…until now!
Please visit http://www.powerbomber.com to see first hand the product that reinvented the bomb drink; with HD videos of the product in action, testimonials, extensive lists of popular and unique bomb drinks, contests, and the hilarious story that inspired the six founders/friends to create this remarkable product. Additionally, on December 23rd 2011, there will be a free Power Bomber Glass Combo give away, which you can register for on the site.
"We found it extremely disappointing and frustrating that we couldn't enjoy a REAL Jager-bomb at our favorite watering holes because of the glassware problem," explained co-founder Rob Symonds, "that's when we came up with the idea of designing a shatter proof polycarbonate glasses with a magnetic design to be able to enjoy our favorite drinks/experience."
# # #