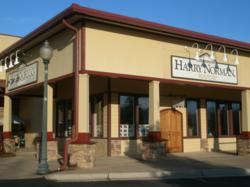 Our main focus is to assist our clients to make the best possible real estate transactions whether they are buying or selling a home.
Big Canoe, GA (PRWEB) December 07, 2011
Harry Norman, Realtors- North Georgia Office (HNR-NGO) is supplying clients with 2 new tools , Harry Norman's Market Tracker and Listingbook, to track the current trends in the Georgia real estate market. The office's market tracking tools can be used by both buyers and sellers for monitoring trends in specific communities and when making decisions on real estate transactions. The office provides these new tools free of charge to clients who can monitor real estate in multiple areas over extended periods of time. The HNR-NGO is located in the Foothills Shopping Village in Marble Hill just down the road from the Big Canoe Community and presents the look of a mountain home which is representative of the North Georgia market it serves. The office's website provides a first class search tool for HNR-NGO website visitors.
The office's website provides access for all listings in the First Multiple Listing Service. The site also enables users to search listings by community and subdivision which enhances a visitor's website experience. The website is a major tool for clients and agents to research traditional and foreclosure real estate in North Georgia and throughout the entire FMLS area. The website also allows visitors to subscribe to Harry Norman's Market Tracker Tool which provides subscribers real estate market trends for communities and subdivisions in the FMLS area. The tool can show users the market trends in a community, such as the trends in the sales of Big Canoe homes, by showing numbers of listings, pending sales and sold prices over the past year.
The HNR-NGO serves Pickens, Gilmer, Lumpkin and Dawson counties and the northern portions of Cherokee and Forsyth counties. The office focuses on communities in these areas and specifically on the Big Canoe community, Bent Tree and Jasper, Dawsonville, Dahlonega, Ellijay, Cumming and Canton GA. The office is staffed with highly experienced agents that represent both buyers and sellers. The office also serves buyers and sellers of bank-owned properties (REOs). Six agents in the office have the designation of Short Sales & Foreclosure Resource which enables them to support clients interested in buying or selling foreclosure and short sale properties.
HNR-NGO Broker, Doug Hosmer said, "The continuing uncertainties in the Georgia real estate market has made it extremely important for buyers and sellers to understand market trends and how they affect their particular transaction. Our Market Tracker application provides clients with a monthly update on real estate trends in specific communities in Georgia. This knowledge can help them with the timing of buying and selling real estate decisions. We also provide clients with Listingbook accounts that enable them to have an excellent overview of the current market situation. Our main focus is on educating and assisting our clients to make the best possible real estate transaction whether they are buying or selling a home."
Founded in 1930, Harry Norman, Realtors is Atlanta's oldest residential real estate firm with 20 offices and over 1,000 sales associates. Harry Norman, Realtors is a wholly-owned subsidiary of HomeServices of America, Inc., a Berkshire Hathaway affiliate. HomeServices is the second-largest full-service independent residential real estate brokerage firm in the U.S. Harry Norman's North Georgia Office is located at 200 Foothills Parkway, Marble Hill, GA 30143 and can be reached at 770-893-2400.
###