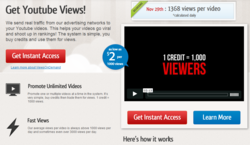 The system is simple, you buy credits and use them for views.
Ottawa, ON (PRWEB) December 02, 2011
Clicking Labs (CL) announced today their plans to unveil their latest project: Views On Demand. Views On Demand is a site that offers an optimized system to provide YouTube Views to the public. This system is achieved by acquiring real traffic to people who want to get their videos noticed on YouTube. Its progressive approach allows its users to buy credits and apply it to the videos that require more visibility and traffic.
Other websites of similar services that sell views for YouTube videos are oftentimes tedious to work with, due to the lack of control for its users. Jean-Patrick Bisson, Managing Director states "Which is why we've created Views On Demand. It's a simpler method for our clients to approach their marketing campaigns, by buying credits, they can just merely apply it to the videos they want to shine the limelight on. It's really simple. The rest of the credits can be applied for other videos, not merely to just one video at a time. This is an alternative method for those who want to achieve a successful YouTube Marketing strategy."
Views On Demand credits can be bought in increments or by bulk to suit the user's needs. One credit is equivalent to 1,000 views. Business Development – Managing Director Jonathan Kennedy includes, "We usually send a minimum of 1,000 views a day for the views but oftentimes, we advise our clients to wait a few days for YouTube to adjust the number of views seen each day." The capability of the number of views delivered by Views On Demand is up to 30,000 views to a single video in a day.
The group behind Views On Demand has been a long standing player in the industry, working behind the scenes for other companies. But today, no longer will they remain in the background. Views On Demand yearns to become the leading YouTube Views supplier on the web. Their promise to their clients includes that no video will ever be flagged, and to deliver only 100% real traffic to the respective video. Their method is guaranteed to be safe and secure to its clients.
Views On Demand was developed by Clicking Labs to eliminate inconveniences for users who wish to get views on YouTube. Their latest service on the web can now provide convenience and control for their users to direct real traffic under their own supervision. Currently, they are continuously improving the service to make the experience better for its users. For more information about Views On Demand, visit their website at http://www.viewsondemand.com.
About
Views On Demand is a company owned by Clicking Labs, Inc. that started in May 2010. The company was founded by a group of friends, Jean-Patrick, Jonathan and Diana. With dedication and perseverance, they were able to bring together a team of multi-talented individuals to provide the world with creative and interesting marketing strategies to drive success to its clients. It was founded in Ontario, Canada but recently moved operations to Cebu, Philippines in early 2011.
###