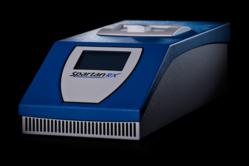 It would not have been practical to send samples to a central lab and wait weeks for a result.

-Marco Valgimigli, M.D., University Hospital of Ferrara
Ottawa, Ontario (PRWEB) December 06, 2011
Spartan Bioscience today announced the start of GENE-MATRIX—the largest clinical trial to date of point-of-care DNA testing in medicine. The randomized prospective trial will enroll 4,000 patients over 2 years at up to 40 hospitals in Italy. The Spartan RX CYP2C19 point-of-care DNA testing system will be used to test heart attack patients receiving cardiac stents. Genetic carriers will receive personalized antiplatelet therapy with Plavix® (clopidogrel) or alternative medications such as Effient® (prasugrel) and Brilinta® (ticagrelor). This landmark study will measure hard clinical endpoints at 1 year such as cardiovascular death, myocardial infarction, stroke, and bleeding.
"The GENE-MATRIX study will help us determine the best method for managing antiplatelet therapy in cardiac stent patients," said Marco Valgimigli, M.D., Ph.D., Director of the Catheterization Laboratory at the University Hospital of Ferrara, and principal investigator of the study. "Spartan's point-of-care technology is the key to making this study happen. It would not have been practical to send samples to a central lab and wait weeks for a result."
"We are delighted to support Dr. Valgimigli and GENE-MATRIX," said Larry D'Andrea, CEO, Spartan Bioscience. "Point-of-care DNA testing is the future and Spartan Bioscience is excited to make it happen."
About GENE-MATRIX
GENE-MATRIX is a genetic substudy of the MATRIX clinical trial (ClinicalTrials.gov: NCT01433627). MATRIX is sponsored by the Gruppo Italiano Studi Emodinamica (GISE) thanks to unrestricted grants from The Medicines Company and Terumo. MATRIX is a randomized prospective trial of approximately 7,000 Acute Coronary Syndrome (ACS) patients undergoing trans-radial versus trans-femoral cardiac stenting. Patients will be randomized to receive either bivalirudin or unfractionated heparin with or without glycoprotein IIb/IIIa inhibitors.
About the Spartan RX CYP2C19
The Spartan RX CYP2C19 is a 1-hour point-of-care genetic test that identifies carriers of the CYP2C19*2 gene. This gene is carried by approximately 30 percent of the world's population.(1) Genetic carriers who receive Plavix following a cardiac stent insertion to open clogged arteries have a 42 percent higher risk of death, stroke, or heart attack in the first year compared to non-carriers.(2) Currently, genetic testing is performed in central labs and it takes up to seven days to get a test result back. A rapid test is needed because most of the complications for CYP2C19 carriers occur in the first 24 to 48 hours.(2,3) In March 2010, the FDA issued a warning for Plavix regarding CYP2C19 poor metabolizers. The Spartan RX CYP2C19 has CE IVD Mark regulatory approval for Europe and other countries recognizing the CE IVD Mark. Spartan Bioscience is working towards FDA 510(k) clearance in the United States. For more information, please visit our website at: http://www.spartanbio.com/products/spartan-rx
About Spartan Bioscience
Spartan Bioscience is the leader in point-of-care DNA testing. The Spartan RX is the first complete sample-to-result, point-of-care DNA testing system in medicine. It is a fully integrated DNA collection, extraction and analysis platform, with an intuitive interface that is easy to operate—no laboratory training required. For the first time, healthcare providers and their patients can get DNA results on demand. For more information, please visit our website at: http://www.spartanbio.com.
The Spartan logo is a registered trademark of Spartan Bioscience Inc.
Plavix is a registered trademark of Bristol-Myers Squibb/Sanofi Pharmaceuticals.
Effient is a registered trademark of Eli Lilly and Company.
Brilinta is a registered trademark of the AstraZeneca group of companies.
1. Damani SB, Topol EJ. (2010). J Am Coll Cardiol. 56:109–11.
2. Mega JL et al. (2009). N Engl J Med. 360:354–62.
3. Wiviott SD et al. (2007). N Engl J Med. 357:2001–2015.
###