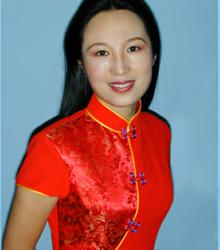 Feng Shui Master Invited To QiPao Beauty Contest
New York City, NY (PRWEB) December 01, 2011
She is, after all, one of the country's leading Feng Shui Masters, an architect and a metaphysics master who rarely used social media. In fact her website and radio shows are in Mandarin. But now, using modern social media she is not shy about saying in English "I would love your help".
The Renaissance Economic Development Corporation is certified as a community development financial institution through the U.S. Department of the Treasury and is hosting a QiPao modeling contest in NYC.
QiPao are those beautiful Chinese dresses that have high necks and are often very elegant.
Zhi Hai is well known for practicing Feng Shui in the United States and Architecture in China. And despite her decades of professional experience, her "balanced" practice has allowed her to maintain the healthy look and beauty of woman 20 years younger.
She was both flattered to be invited to model the QiPao and a bit concerned that it did not "fit" her professional standing in the Feng Shui community. But she believed, if she could be among the top ten models she would show people how beneficial good Feng Shui can be for your life, health and happiness.
It turned out to be quite surprising, a great experience and a very valuable education for her and her clients.
She learned the power of "Social Media" like Facebook, Twitter and email marketing even in traditional Chinese situations. Some of the contestants were doing so well. She could not understand how they got so many votes so fast. It turned out to be a social media contest where your friends and "fans" vote instead of judges. With this new knowledge she "dove into" social media and begun to gain steam. She experienced first-hand the power and importance of social media quickly going from 100 votes to more than 600 votes. But she still needed more strategy.
Now she is experimenting with other forms of viral activity like PR, mobile communications and smart "modern" practices. She is about halfway to her goal in only two weeks but as she says " I can use as much support and viral help as possible from all of you on the internet". if you want to see her picture and give her a vote go to http://www.tinyurl.com/zhihai-contest and click on "vote here".
The contest is over December 7 so vote now if you want.
If you want to see all the contestants go to http://renaissance-ny.org/wordpress/2011-qipao-contest/. She is #23. You can vote for ten contestants.
Zhi Hai is one of the nation's leading Master's of Feng Shui, Architecture and Metaphysics. Her deep study of the life and secrets of Emperor Huang Di have uncovered valuable "Power Your Life" secrets and can be seen on http://www.emperorswalk.com
###