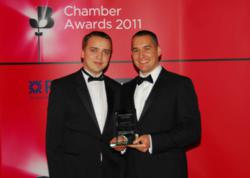 I've never had so much fun helping so many people to gain employment
(PRWEB UK) 1 December 2011
A pioneering recruitment company has had its hard work and dedication paid off, winning one of the UK's most prestigious business awards. 
RecruitmentGenius.com walked away with the British Chambers of Commerce Award for the Most Promising New Business, in a glittering ceremony at the Connaught Rooms in London, last week. 
The innovative Sevenoaks company took the award, sponsored by BT , after beating off the country's best businesses with a format which has seen it fill an astonishing 38,000 jobs in its first year.
The Kent-based business has chalked-up an amazing success story, after rethinking the recruitment industry model. And it has stunned its competitors with its unique proposition – to fill any job for just £199.
The award-winning firm boasts an incredible success rate of 93 per cent, compared to its industry's average of 12 per cent -  and it's all been done on the back of an initial £10,000 investment.
Now RecruitmentGenius.com is setting its sights on becoming a 'dominant player' in Australia, America and Northern Ireland.
British Chambers of Commerce Director General John Longworth said: "With focus, passion and determination, this business has developed a unique and accessible offering in the marketplace, which has seen it carve a high-profile niche in the industry.
"With just a £10,000 initial investment, its growth and success has been phenomenal.  With solid plans in place for the future, RecruitmentGenius.com is certainly one to watch."
RecruitmentGenius.com Chief Executive Geoff Newman is over the moon to collect the BCC award. 
"It's such a privilege to have been chosen amongst our peers as one of the most promising new businesses in the UK," said Mr Newman.
"This is testament to the hard work of our staff and the trust that several thousands of clients have placed in us over the past year.  I've never had so much fun helping so many people to gain employment."
"In order to cope with anticipated future demand, we have invested heavily in a robust IT system, which means that clients can now work solely via the website,"  added Mr Newman.
RecruitmentGenius.com places advertisements on up to 2,000 job boards, with JobCentrePlus and on popular social media sites. It also hand-filters all applications.
The Awards took place on November 25th.
###