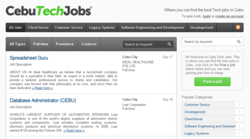 Where you can find the best Tech jobs in Cebu.
Cebu, CEB (PRWEB) December 02, 2011
Clicking Labs is yet again up for another release of its latest projects—Cebu Tech Jobs. Cebu Tech Jobs is to provide the public with the ultimate go-to platform where locals can find the best technical jobs in Cebu, Philippines. Having recently moved their company's base to Cebu City, Philippines, Managing Director Jean-Paul Bisson explains the company's reasons for starting up Cebu Tech Jobs. "There is an amazing pool of talent within the Philippines and especially here in Cebu. The talent has been underappreciated because of other factors. Which is why, with Cebu Tech Jobs, it can troubleshoot the and eventually solve the problem of disseminating these opportunities. With Cebu Tech Jobs, one can immediately post a technical job to the public, and for its potential hires to apply to be aware of the opportunities out there."
"Oftentimes, good people with the right skill set go unnoticed because of the lack of resources, connections or networks. With Cebu Tech Jobs, this will be an immediate solution to bridge the gap between employers to possible employees. By providing this free service, it will give more people the freedom whenever necessary without the worries of additional charges for the company in hiring" adds Business Development – Managing Director Jonathan Kennedy.
At the moment, the categorized job listings available are within the following departments: Client/Server, Customer Service, Legacy Systems, Software Engineering and Development and Others. When employers post a job listing, there is a prompt to provide specific and relevant information in order to narrow their search of candidates. A brief description of the company, responsibilities, skill set is a requirement for Cebu Tech Jobs. Among all else, the employer must also specify the type of job position, whether the position is freelance, full time, or contractual.
Through due process, applicants are well informed about the job listing and can act with an informed mind set whether to pursue the position or not. To apply for the job listing, one can simply fill up the requirement boxes found under the job listing or comply to the instructions specified. One can also attach their resume immediately to the application instead of having to rely on third-party e-mail providers to improve their chances of employment.
Cebu Tech Jobs aims to provide better job opportunities in Cebu and its local community. The team behind Cebu Tech Jobs has long term plans that include branching out to other areas other than Cebu, mostly to provinces where job opportunities are not well appreciated. At the moment, they are constantly growing to become the top job listings in Metro Cebu. Cebu Tech Jobs is a free service with no hidden charges whatsoever in order to give back to the community. To learn more about the different opportunities available, please visit their website at http://www.cebutechjobs.com.
About
Cebu Tech Jobs is a company owned by Clicking Labs, Inc. that started in May 2010. The company was founded by a group of friends, Jean-Patrick, Jonathan and Diana. With dedication and perseverance, they were able to bring together a team of multi-talented individuals to provide the world with creative and interesting marketing strategies to drive success to its clients. It was founded in Ontario, Canada but recently moved operations to Cebu, Philippines in early 2011.
###