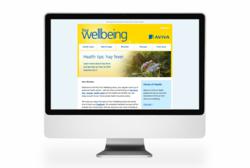 "In our experience original editorial content specifically created for an email audience results in an uplift in response and engagement metrics such as click-through and dwell times."

Sean King, CEO, Seven
London (PRWEB UK) 30 December 2011
Having produced Aviva's Your Wellbeing print magazine since late 2009, Seven expanded Aviva's customer communication with Your Wellbeing e-zine. The bi-monthly e-zine has built on the popularity of the print magazine amongst Aviva's private medical insurance customers.
Designed to appeal to younger audiences and provide tailored content and offers that meet customers' interests, the e-zine contains exclusive health-related editorial features and news linking to Aviva's health site, prize draws, quizzes and details of loyalty programmes and policy benefits available to customers.
Each issue is segmented to the reader's needs, providing a targeted communication channel for other Aviva group products, the GP helpline, MyHealthCounts and Aviva Deals.
Your Wellbeing e-zine was developed following insight into Aviva customers' growing preference to receive information and engage through digital channels.
Sean King, CEO of Seven, said: "We're really pleased that Your Wellbeing e-zine has been nominated in its first year. In our experience original editorial content specifically created for an email audience results in an uplift in response and engagement metrics such as click-through and dwell times. We understand Aviva and its vision, and as a result we have created a joined-up, content-rich strategy to boost customer retention and we're seeing great results already. Our aim is to capitalise on the growing trend towards brands creating owned and earned media over bought media, across all platforms."
The Digital Magazine Awards recognise innovation and effectiveness in the digital magazine industry worldwide.
Last year's awards attracted entries from 26 countries, including publishing houses FuturePlus, Hearst, UBM, IPC Media, Time and Redwood; Blue chip brands including Mazda, Sky, ASDA, KLM and Vodafone, and the industry's stand-out editors, designers, photographers and writers.
Judging is by a panel of leading industry experts including Peter Bale, Executive Producer, Microsoft; Shane Richmond, Technology Editor, Telegraph Media Group; David Rowan, Editor, WIRED magazine; Gavin Drake, Vice President, Quark Inc. and Suzanne Melia, Executive Producer, AMV BBDO,
The category winners will be announced on 14th December.
Seven produces e-zines for LTA, RAC, Homeserve, and Sainsbury's, among others.
Winner of the 2010 APA Best Integrated Marketing Solution for Little Ones, 2009 PPA Customer Magazine of the Year for Sainsbury's, and 2008 PPA Customer Magazine of the Year for ASOS.com, to name a few, Seven is expert in creating intelligent, relevant and effective content across multiple channels. These include magazines, websites, social media, interactive e-zines, video, iPhone and iPad apps.
-ends-
http://www.seven.co.uk
Contact at Seven:
Shareena Ali
PR
Tel: 0207 775 5549
Email: shareena.ali(at)seven(dot)co(dot)uk
http://www.seven.co.uk
###