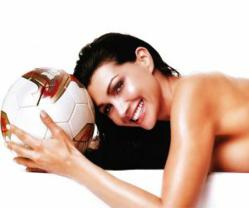 Chelsea fans may be aping the adulterous behaviour of their team's players, several of whom are alleged to have had affairs
London, UK (PRWEB UK) 1 December 2011
The site surveyed its 420,000 philandering members in England and Wales on which football team they support. Chelsea have more fans on Undercover Lovers than any other team, closely followed by Liverpool and Manchester United.
Whilst the top slots in the Adultery League were dominated by Premiership teams, several from the lower divisions also featured prominently including Championship clubs Leeds United at 5th , Birmingham City at 7th and Brighton at 10th and Division One's Sheffield Wednesday at 13th.
UndercoverLovers.com spokesperson Emily Pope comments, "Chelsea fans may be aping the adulterous behaviour of their team's players, several of whom are alleged to have had affairs, including club captain John Terry and defender Ashley Cole. They may also be seeking some solace for Chelsea's poor form on the pitch."
She adds, "Whilst the top four teams in our Adultery League are predictably four of the country's biggest clubs, the mixture of less fashionable teams from the lower leagues in our table suggest that football fans the length and breadth of the country are playing away from home."
Some fans are even having their illicit encounters when supposedly attending football matches. As UndercoverLovers.com member Alan puts it, "Going to watch an away match is one of the best alibis for me to hook up with my secret lover. I can be absent from home all day and as long as I read up on the live match report online before I get home, I can cover myself convincingly."
The Adultery Premier League
1 Chelsea
2 Liverpool
3 Manchester United
4 Newcastle United
5 Leeds United
6 Arsenal
7 Birmingham City
8 Manchester City
9 Everton
10 Brighton & Hove Albion
11 Tottenham Hotspur
12 Sunderland
13 Sheffield Wednesday
14 West Ham United
15 Aston Villa
16 Southampton
17 Bristol City
18 Cardiff City
19 Bolton Wanderers
20 Derby County
21 Ipswich Town
22 Nottingham Forest
23 Fulham
24 Norwich City
25 Stoke City
26 Middlesborough
27 Coventry City
28 Blackburn Rovers
29 Reading
30 WBA
About UndercoverLovers.com
Undercover Lovers is the UK's foremost extra-marital dating agency. With over 550,000 members, the site was created to provide a safe, discreet and non-judgmental environment, where married women and men can meet. The majority of the site's members are 30 and 40 something professionals earning on average £10k more than the country's average wage and have been married 5+ years.
Undercover Lovers retain a stack of statistics on adultery and related subjects and are happy to share this information with interested journalists. We have experienced media representatives available to contribute to discussions on the subject, as well as female and male members willing to talk openly about their experiences on and off the site.
Contact:
Emily Pope/Roger Dugarry
07795 326505
emilyundercover(at)gmail(dot)com
UndercoverLovers.com
###