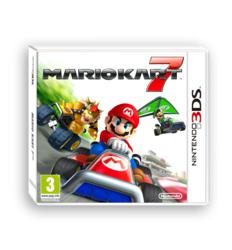 (PRWEB UK) 1 December 2011
Mario fans are in for a treat as Mario Kart 7, the latest installment in the Mario Kart franchise, comes to the palms of their hands in 3D action on 2nd December. To celebrate the launch, GAME will be inviting customers to play the brand new game in stores across the country* from December 2nd – 4th.
To add to the fun, on Saturday 2nd December Mario fans at every participating store will be invited to time trial on an exciting, all-new course from Mario Kart 7. At the end of the day the winner of the fastest lap time from each store, will win a £25 GAME voucher. The lucky gamer who wins with the fastest lap time will win a grand star prize of a family trip to Italy.
Bringing exciting 3D kart action to gamers, Mario Kart 7 lets drivers explore all-new competitive kart possibilities on the Nintendo 3DS. Use gliders to fly over the track, or speed over the sea floor as you race underwater. Show off your style by customising your vehicle to give you a competitive advantage on the track. Race as a traditional Mushroom Kingdom character, or even as your own Mii ™ character. Challenge your friends in local wireless matches or online over a wireless internet connection.
There is a course suited to every driving style, from wild rides over a mountain road to city streets and dusty deserts. Fans might recognise new courses on Wuhu Island and in the jungles from Donkey Kong™ Country Returns.
For more information about this and other features, visit http://www.nintendo.co.uk
*GAME Stores:

CROYDON WHITGIFT
NOTTINGHAM LISTERGATE
LONDON OXFORD STREET
BRISTOL CABOTS CIRCUS
DERBY
THURROCK
BLUEWATER
READING
SHEFFIELD MEADOWHALL
METROCENTRE
LIVERPOOL ONE
BRENT CROSS
CARDIFF ST DAVIDS
GLASGOW
KINGSTONUPONTHAMES
CAMBRIDGE
TRAFFORD
EDINBURGH
PETERBOROUGH
MERRYHILL
About Nintendo 3DS:
Nintendo 3DS offers Parental Controls so that parents can control the level of 3D their children can view on the Nintendo 3DS as well as the content they can access. Nintendo 3DS also features a 3D depth slider which lets players turn off or adjust the level of 3D they want on the 3D Screen, two built-in screens for different functionality, a Circle Pad which provides a full 360 degrees of direction, a built-in motion sensor and gyro sensor. It is equipped with three cameras (two of which are facing outwards to allow the taking of 3D pictures), houses a 2GB SD Memory Card and is compatible with AR Cards which come packaged with Nintendo 3DS. Nintendo 3DS is also backwards compatible with all existing Nintendo DS games, which can be played in 2D on your Nintendo 3DS system. For more information about these features and other options, visit http://www.nintendo.co.uk
About Nintendo:
The worldwide pioneer in the creation of interactive entertainment, Nintendo Co., Ltd., of Kyoto, Japan, manufactures and markets hardware and software for its Wii™ home console, Nintendo 3DS™ and Nintendo DS™ family of portable systems. Since 1983, when it launched the Nintendo Entertainment System™, Nintendo has sold more than 3.7 billion video games and more than 600 million hardware units globally, including the current-generation Wii, Nintendo 3DS, Nintendo DS, Nintendo DSi™ and Nintendo DSi™ XL, as well as the Game Boy™, Game Boy Advance™, Super NES™, Nintendo® 64 and Nintendo GameCube™ systems. It has also created industry icons that have become well-known, household names such as Mario™, Donkey Kong™, Metroid™, Zelda™ and Pokémon™. A wholly owned subsidiary, Nintendo of Europe, based in Grossostheim, Germany, was established in 1990 and serves as headquarters for Nintendo's operations in Europe. http://www.nintendo-europe.com/
###