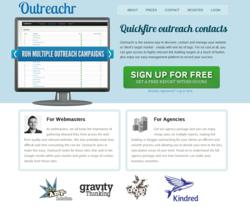 (PRWEB) December 15, 2011
The social blogger outreach tool Outreachr are pleased to announce the further development of their tool with a series of new features aiming to significantly enhance its usability.
First up is the expansion of the tool to now consider and reach the Swedish, Dutch and Spanish markets, with millions of sites and webmasters in the relevant languages now added to Outreachr's indexes to enable increased outreach. This adds to the already substantial list of compatible languages within the tool, including English, Italian, French and German.
Outreachr has also added a number of features to the categorisation and sorting of the outreach reports, with the ability to tag and bookmark sites added as a feature into the 2.0 version of the tool. Users can now "star" a contact within their reports and filter all contacts by this tag, giving them a quick and easily accessible list of "go-to" webmasters for when they need some quick-fire outreach to be done.
The tool has also increased its detail, giving more in-depth information on both the domain and the webmaster to help users understand the relevance and value of a given contact. This detail can be found under the new information tab, and is supported by a new feature which enables the tool to return multiple email addresses per page, so users can select the most appropriate to contact from within Outreachr.
Furthermore, a more comprehensive and honed blacklist has been added to the site - and indeed is being constantly added to - which significantly increases the quality of the reports produced.
Head over to Outreachr.com today to check out the latest version of the tool, available for free on a limited basis, and as little as £99/month going forward. Streamline those outreach campaigns today.
###