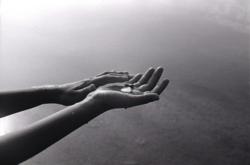 Don't be afraid, I am here for you to find.
(PRWEB) December 02, 2011
Two Stones, a new book for middle school children is now available at the iTunes bookstore. Black and white photographs that are made from Polaroid negatives illustrate the story. In addition, there are ancient symbols that are coordinated with the text.
Reviews
"Two Stones by Ron Teachworth is a beautifully photographed story, about a miracle in the life of a young girl who is having family problems. The problems are solved with the help of two magical stones that she finds on the beach. In the story, Analisa worries about her parents' arguments and wonders whether they might divorce. The book might be enjoyed just simply for the story or could be used to engage a child or group of children in a discussion about childhood fears, especially the fear of parents divorcing." Christine Lind Hage, Director - Rochester Hills Public Library
"Two Stones is a beautiful story about a young girl worried about fight her parents were having. A touching tale with deeper tones that will engage readers of any age. Gorgeous photography." -- J. Hager, Young Adult Author - Azores, Portugal
"The themes of aloneness and connection can foster dialogue about how children cope with upset feelings. During her walk, Ana experiences the restorative effects of being alone in nature. However, it is the reunion with her parents at the end of her walk, which provides her with the sense of safety and connection that she, like any child, needs." -- Juliet Glinski, Psy.D. Psychologist - White Plains, NY
"The children's book Two Stones, by Ron Teachworth, is a simple, elegant story about a child coping with anxiety after witnessing a fight between her parents. Ana, who is depicted in beautiful photographs by Todd Weinstein, finds solace with a walk on the beach and two magical stones." Susan Stewart, Artist - Bloomfield Hills, Michigan
Order hard copy: http://bookstore.xlibris.com/ or from the author
ITunes: http://itunes.apple.com/us/app/two-stones/id430675735?mt=8
###