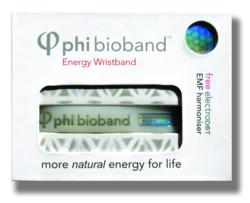 "The Phi bioband gives an immediate boost to your energy which lasts all day every day'
(PRWEB UK) 1 December 2011
Phi harmonics, producers of the energyDOTs™ range, today launched the Phi bioband™ - an innovative wristband embedded with a magnetic strip programmed with an energising and uplifting 'energy signature'. This signature interacts with the natural human energy field, delivering immediate benefits including deeper sleep, more energy, greater focus, fewer headaches and a sense of calm.
The innovation lies in the fact that the manufacturers have created a version of their existing bioDOT™ as a portable personal energy device. "We are aware there are energy bracelets and bands on the market but this is the first time that a unique technology, already well-proven in this field, has been made available in such a form. It is a great way to keep the power of the bioDOT with you at all times," says Lucy Blyth, Marketing Director of Phi harmonics.
An awareness of the need to nurture our energy field has been central to Eastern philosophy and medicine for centuries. In the West an understanding of these principles has grown rapidly in recent years. With the level of electro-magnetic radiation 100 million times higher than it was fifty years ago, the challenges to our energy field are acute. Many scientists are trying to alert us to the potential risk to our health. "To say that this product is timely would be an understatement," commented Phi harmonics' Charles Caudle.
The bioDOT™ is one of the five major components in the energyDOTs™ toolkit. A second is the electroDOT®, programmed to inhibit the potentially harmful effects of electronic devices like mobile phones and computers.
Special electroDOT® promotion: The Company is giving away an electroDOT® (worth £25) free with each bioBAND (while stocks last).
Please Note: To help increase public awareness of the issues surrounding electro-sensitivity and of the help available, Phi harmonics will consider running reader offers for appropriate publications.
More information from:
Lucy Blyth, Phi harmonics Ltd, Lotus Complex, Stoke Gabriel, Devon TQ9 6SL
+44 (0)1803 782008 07877 416429
# # #