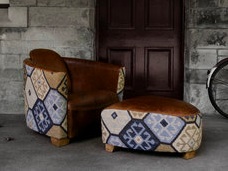 (PRWEB) December 01, 2011
Indigo Furniture were looking for an iconic brand to collaborate with on some innovative new leather pieces, and felt the synergy between the two companies was perfect.
Mulberry began in Somerset, much like Indigo in the Peaks, in beautiful rural countryside. From it's inception in 1971, it's luxury fashion pieces quickly became hugely popular throughout the seventies and eighties all over the world. Mulberry was established as Britain's first 'Lifestyle' brand and it's success has continued to the present day, where the company still works out of Somerset, and also London creating signature designs that are quintessentially English.
Similarly, Indigo's pieces are also renowned as being the 'best of British' in furniture design, with their rustic, chunky and quirky feel. So it was natural that when the two brands should join forces, a stunning creation should come forth!
The new products include a sofa and two armchair designs, along with matching footstools to go with each design. All of these pieces feature a luxurious Topkapi fabric design from Mulberry on the outer panels of the furniture, which gives a real wow-factor. The stunning Mulberry fabrics come in two different colour designs, blue and bronze or red and gold, and can be matched with Indigo's Shabby or Conka leathers. The Mulberry Snuggla Sofa is a cosy two seater design with a sumptuously curvy design, perfect for cosy Winter nights in front of the fire. You can also purchase a matching Mulberry Snuggler Footstool, which is made for two sets of feet to curl up on! The luxurious Mulberry Snug Armchair is a smaller version of the Snuggla Sofa, and also has it's own matching Snug Footstool. Finally, the Mulberry Armchair and matching Footstool are the perfect choice for lovers of the traditional design of Armchair, with it's large comfortable arm rests and plush seat cushion.
Indigo Furniture's range of leather Sofas and Armchairs have a distinctly vintage feel. This is thanks to the specially selected leather, which is chosen from the top 5% of hides for it's quality and distinction and crafted using a traditional 19th century technique. This method is used in lieu of more modern leather manufacturing which includes rolling and skimming the leather, to remove any marks or 'imperfections'. Indigo strongly believe in avoiding this type of process as it can lead to thinning, and therefore weakening of the leather. Instead they embrace these inherent characteristics and enhance them to create a piece of furniture which is a unique celebration of this material.
These new products compliment the existing range perfectly, if you are looking for an addition to your existing Indigo Sofa or Chair collection, mix and match for a fabulous new look. Additionally, stunning Mulberry cushions are also available so if you can't squeeze in one of the new chairs, and already have an Indigo Sofa or Chair you can still give it a stylish Mulberry makeover!
The great news is that if your order an Indigo Sofa or Armchair, it will be made to your exact design specifications by their team of master craftsmen from the finest materials, and you can have it in your home in 12 weeks or less! This is pretty impressive when you consider the care and attention to detail that they put into each piece, and as with all items from the Indigo range, the characteristics of the luxurious Italian leather mean it will be unique!
###