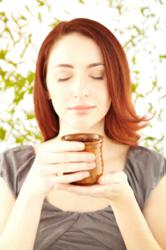 If someone is looking for a hot beverage that will not give the cons of caffeine, he should consider caffeine free TEN-CHI TEA.
New York, NY (PRWEB) December 01, 2011
Caffeine is the most common addictive substance that many Americans intake. Many cannot function without a caffeine fix regularly. Tea is one of the main sources for this substance. There are some downsides of caffeine. Here are some cons of caffeine to consider:
1. Caffeine provides a short burst of energy, then a sharp drop off. Many love the burst of energy they get from caffeinated tea. However, after a time, that burst busts. The sharp drop off can give a person a deep feeling of fatigue. The more caffeine a body takes in, the sharper that drop off will be.
2. Caffeine can interfere with a good night's sleep. Too much caffeine will keep one awake well into the night. Some people make the mistake of taking in caffeine throughout the day. Then, they have trouble getting to sleep. The drop off of caffeine is a contributing factor for this condition.
3. Caffeine can trigger the release of stress hormones. Caffeine content can enhance the body's natural release of adrenal hormones. The adrenal glands can release adrenaline, cortisol, and norepinephrine among others. This release of hormones creates a reaction in the body's natural rhythms. In addition, exposure to chronic stress hormones can be detrimental to the entire body.
4. Caffeine can prompt an exaggerated response to every day aggravations. With a constant stream of adrenal hormones, the body is always at a ready state. When an everyday aggravation builds up, the person can begin reacting in ways that are not normal.
5. Caffeine heightens blood pressure. Caffeine in tea creates a rush of hormones. Some of those hormones can raise the blood pressure. For people who have blood pressure issues, this rush of additional pressure can be a threat. It is important to intake caffeine content with a mind as to health.
6. Caffeine can be mildly physically and mentally addictive. The body gets used to the rush of adrenal hormones. When trying to wean off the caffeine, the body will react. Many report having the shakes as well as headaches. The mental fog that comes down can be quite aggravating. While there is no real danger to coming off of caffeine, it can take awhile to come off the dependence completely.
If someone is looking for a hot beverage that will not give the cons of caffeine, he should consider an herbal tea. One to put on a list for consideration is TEN-CHI TEA. The tea also provides many other benefits such as body cleanse.
About the Company
Eco Vita, LLC. is an environmentally conscious, health product company, positioned to deliver vital herbal and natural products in the United States. The company is dedicated to social responsibility in areas of the world that supply their products. Eco Vita is a member of the UN Global Compact.
###