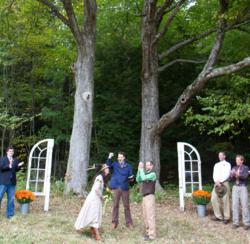 These days, couples are looking for more than just a stunning backdrop for their celebration; they're looking for ways to minimize the environmental impact of their wedding or civil union.
Starksboro, VT (PRWEB) December 01, 2011
Staff at the Common Ground Center, an eco-friendly vacation destination on 700 acres in Vermont, have noticed a trend amongst couples who come here to tie the knot. "The definition of 'wedding of your dreams' seems to be changing," says Kiesha Richardson, rental coordinator at Common Ground Center. "These days, couples are looking for more than just a stunning backdrop for their celebration; they're looking for ways to minimize the environmental impact of their wedding or civil union." The Common Ground Center, with solar power, 560 acres of protected land, and green building techniques, attracts couples with eco-friendly values.
With the "green" theme already in motion at Common Ground Center, wedding couples take this inspiration and turn it into a wedding that meets their tastes. Kateri Damato and Darren Lidstrom got married this past fall in September. They used the sustainable vision of the Center in their wedding planning. For example, they used recycled windows to decorate their outdoor wedding site. The couple found to their benefit that Vermont has no shortage of old windows.
To help out guests, they used recycled vintage sheets to make the beds in the rustic cabins. On the morning of the wedding they picked fresh flowers at Jubilee Farm in Huntington, VT and arranged them in recycled glass jars. The jars were picked up at local flea markets and re-purpose shops.
Kateri and Darren enlisted the help of many of their friends and family to bring a local flavor to their wedding while keeping it affordable. Their talented friend Jacob (Jacob Albee Designs in Burlington, VT) hand crafted their wedding rings and officiated their wedding, while others helped prepare the meals and clean up afterwards.
For the reception meal, they roasted a pig sourced from Duclos and Thompson Farm in Weybridge, VT. The couple brewed their own beer at a local brewery where Kateri used to work and used locally grown hops. All of the vegetables used in cooking were locally sourced along with the cheeses and maple syrup.
Lodging for the guests included rustic cabins and an Eco-Lodge, built with wood harvested from the mountain on-site. The recently constructed Eco-Lodge really showcases the center's dedication to environmental sustainability and has turned Common Ground Center into a truly "eco" destination wedding venue. With all these "green" features in place, wedding couples get to come in and personally enhance the sustainable qualities to meet their style and values for a perfect weekend celebration.
CGC was sustainably designed and constructed from the start. Walk around the site and you'll see a plethora of organically designed facilities, including a cabin made from straw bales, a composting toilet outhouse, a common bathhouse with indoor and outdoor showers, a swinging bridge and an outdoor wood-fired oven. Many of the buildings feature wood from the Common Ground Center land, and recycled doors and windows. Buildings are also clustered at the edges of the fields or in the woods to leave open fields untouched.
Now that Common Ground has a lodge, it can boast even more "green" attributes that are sure to lead more wedding couples to its site. The Eco-Lodge is a great space for bridal parties, grandparents, and families traveling with babies. Some of the eco-chic features include large windows, skylights, clerestory windows and solar tubes that provide natural light in all the rooms. It has a "living roof" covered with grass and wildflowers, providing natural insulation while helping the building blend into the landscape. Next to this, you'll find photovoltaic panels on the roof, providing all of the hot water needed throughout the summer months and radiant floor heat when the weather turns colder. The Eco-Lodge is a remarkably energy efficient building and its beauty and comfort doesn't hurt when added to the equation.
Many couples like Kateri and Darren are inspired by the magical, eco-friendly qualities at Common Ground Center. Couples get to transform the site into something they can call their own while sharing endless memories with family and friends. Don't delay; you too are invited to check out how Common Ground Center is taking eco-weddings to a whole new level. Visit our website or call our rental coordinator today to schedule a tour at 800-430-2667.
# # #