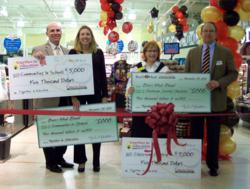 It was a wonderful surprise, of course, and a terrific way to begin this season of giving.
Charlotte, N.C. (PRWEB) December 02, 2011
UPDATE: In the spirit of giving, Harris Teeter President, Fred Morganthall, announced Harris Teeter's Together in Education program would match both $5,000 donations presented by Boar's Head on behalf of Harris Teeter to Classroom Central and Communities in Schools at last Tuesday's event. Each organization was presented with $10,000.
"We are thankful to have been selected to receive a donation of $5,000 from Boar's Head and Harris Teeter," said Johanna Lovvorn, Classroom Central assistant executive director. "The additional $5,000 match provided by Harris Teeter's Together in Education program was a huge surprise, and the combined gift of $10,000 will allow us to keep basic supplies in stock when critical items like pens, pencils, crayons, and markers become depleted."
"We knew we were receiving $5,000 from Boar's Head and Harris Teeter, but the additional $5,000 from Together in Education was unexpected," said Molly Shaw, Communities In Schools executive director. "It was a wonderful surprise, of course, and a terrific way to begin this season of giving. We are grateful to both Boar's Head and Harris Teeter for supporting our efforts to help all students be successful in school and graduate from high school."
Previous Release Shown Below
What: Harris Teeter, Boar's Head Brand Announce $10,000 Donation to Local School Programs
Announcement Timed to Celebrate Final Boar's Head® Induction Ceremony, Product Availability in All Harris Teeter Locations
Date: Tuesday, Nov. 29, 2011 – 3 p.m.
Where: Harris Teeter Rea Village
11516 Providence Road
Charlotte, N.C.
Live shots are welcomed!
Nov. 29, 2011, Harris Teeter President Fred Morganthall and Boar's Head Brand President Michael Martella will present Communities in Schools and Classroom Central each with a $5,000 check in support of the organizations' commitment to excellence in education.
Education is very important to Harris Teeter and Boar's Head. Both companies have been working together since 2009 to provide Harris Teeter associates with the extensive training necessary to help shoppers make informed decisions about the Boar's Head premium delicatessen meats and cheeses. Nov. 29 marks the final group of Fresh Foods Market associates to graduate from the Boar's Head training program, and to celebrate the occasion, Harris Teeter and Boar's Head are making donations to organizations in the community also committed to education.
Since 1998, Harris Teeter has donated over $16.1 million to participating schools through its Together in Education program. The company's Together in Education team works directly with schools to help them grow their Together in Education programs and raise funds for education. Harris Teeter associates are also constantly trained and tested, so they can continue to provide shoppers with excellence in customer service.
"We're delighted to have a strong relationship with Harris Teeter and provide their shoppers with our vast array of the finest delicatessen meats and cheeses," said Martella. "Additionally, Boar's Head has a longstanding commitment to the development and enrichment of our youth. We are very proud to support Harris Teeter in providing much-needed resources to schools and students in the Charlotte community."
Classroom Central Charlotte equips students to effectively learn by collecting and distributing free school supplies. Communities in Schools works to increase the graduation rate in the Charlotte-Mecklenburg school district by supporting students and placing full-time coordinators in schools.
To learn more about Boar's Head Brand and Harris Teeter, visit http://www.boarshead.com and http://www.harristeeter.com.
###