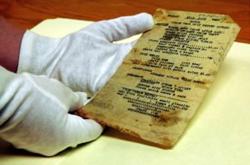 "We enjoy working with libraries across Canada to make their operations and budgeting that much easier." Robb Richardson, Ristech
Montreal, Qc (PRWEB) December 01, 2011
On Dec. 1 and 2, Ristech will showcase its three most popular products for libraries of all sizes and locations:

The Book2net Spirit, the first entry-level high-resolution scanner designed for fast and simple public use;
The Book2net Kiosk, which includes a high-resolution, single-shot camera that can scan up to 2,000 pages per hour and is still gentle on books;
The Viewscan Microfilm Scanner, an innovative microfilm viewer and scanner that digitally captures microfilm images and instantly projects them on a computer monitor.
"As a local provider of the latest in book scanning and digitizing technology, we are delighted to participate in this conference and to share information on our advanced scanners, which can save time, energy and money for libraries while eliminating the needs for photocopiers, paper and toner," said Robb Richardson, president, Book2net, North American operations. "We enjoy working with libraries across Canada to make their operations and budgeting that much easier."
The conference will be held at the Palais des Congres de Montreal. Exhibit hours at 10 a.m. to 5 p.m. on Dec. 1 and 10 a.m. to 4 p.m. on Dec. 2. The third annual conference also includes a variety of presentations, poster sessions and special events for attendees.
About Ristech Company
Ristech Company is a leading supplier of digitization technology for fragile and bound documents. Specializing in the capture and distribution of images, Ristech has an impressive list of end users and partners in the imaging market place. Our technology is used extensively in libraries, archives and research facilities where quality and careful handling of materials is a concern. Some of our clients include The Library of Congress, Library and Archives Canada, The University of Toronto, University of Laval and McGill University, to name a few. For more information, please visit http://www.ristech.ca.
About book2net Inc.
book2net Inc. is an international alliance of manufacturers, libraries and service providers that design and produce book scanning technology. With an installed base of more than 500 clients including the Library of Congress, the British Library, National Archive of Sweden and many leading academic libraries in North America, book2net develops technology from the ground up with end users at the table. For more information, visit http://www.book2net.net.
About ST Imaging
ST Imaging is a leading worldwide manufacturer and distributor of micrographic and other collection scanning solutions. Founded in 1989, the company manufactures and distributes film and book scanners that are available worldwide through a network of authorized resellers and are supported by ST Imaging's comprehensive fulfillment, training, support, warranty and repair services.
###