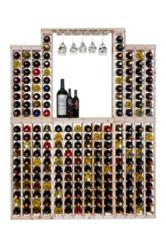 Since it's water based, we are essentially creating zero waste and doing our part in lowering our carbon footprint," said Mike Kitson
Olympia, WA (PRWEB) December 03, 2011
The WineRackStore.com is pleased to announce the use of environmentally friendly water-based stains and lacquers for all wood wine racks and wine cellar components.
According to Robin Daly, owner of Daly Wood Finishing and Seattle-based supplier for WineRackStore.com's stain and lacquers, using a water-based finish adds a green element to wood products because it's non-flammable, non-pollutant, low odor and, therefore, overall safer to use than petroleum-based stains.
"What drives our desire to use this product, is that its safe for our employees to use and, since it's water based, we are essentially creating zero waste and doing our part in lowering our carbon footprint," said Mike Kitson, owner of WineRackStore.com. In addition to the use of environmentally friendly stains and lacquers, the Wine Rack Store only uses sustainable woods for our products, recycles all unused and scrap wood materials, and purchases carbon credits to offset their impact on the environment.
WineRackStore.com has been selling quality pre-made and custom built wine racks, cellars and wine accessories since 1995. WineRackStore.com is A+ rated from the Better Business Bureau and all products are locally crafted in Olympia, WA.
###