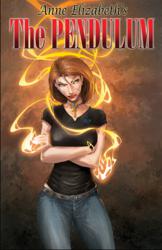 ANNE ELIZABETH is A Woman of Many Talents - Creator, Writer & Adaptor - and she has a New Book Releasing!
Atlanta, GA, Greenwich, CT and San Diego, CA (PRWEB) December 01, 2011
Sea Lion Books is releasing THE PENDULUM, the second graphic novel in Anne Elizabeth's Pulse of Power series this month. THE PENDULUM will be able in print version through Amazon, Diamond Distributors, and Sea Lion Books and digitally through Iverse, Graphicly, Comixology, Kindle, and Ibooks. In addition to being a comic creator and adaptor, Anne Elizabeth is a romance author and the columnist for RT Book Reviews on the topic of comics, manga, and graphic novels. She is notably one of few comic creators for teen audiences.
In THE PENDULUM, Anne Elizabeth takes her heroine, Tia Stanton on an off-world journey. With the gift of tremendous magical powers, Tia's life has become more complicated in this second graphic novel. Our heroine is at a serious turning point. No longer just a stock girl by day at Vivant – the sentient supernatural store – or a monster-hunting vigilante at night, Tia is facing an alien civil war. Difficult choices force Tia to choose a side, but it is crucial that she also takes action…ones that she can survive. "Power up! Destiny is a choice."
The idea for the Pulse of Power series began back in AE's high school days. "I couldn't let go of the characters – their determination, wants, and needs are very real to me. It's been a tremendous joy to see the stories come to life in graphic novels," said AE. "The teenager in me cannot stop grinning." Written for both teens and adults, there will be a total of eight-books in the series. "I'm thrilled to be working with Sea Lion Books. They produce wonderful comics and graphic novels that are mini-magnificent works of art," said Anne Elizabeth who is also the adaptor of Anne Rice's Spring 2012 release, Christ The Lord: Road to Cana graphic novel.
"We are extremely thrilled to bring the next volume of Anne Elizabeth's Pulse of Power series to life in graphic novel form," said Derek Ruiz, Executive Vice President, and Publisher of Sea Lion Books. Anne has created a fantastic world that has excited and enticed fans. I'm glad to have her as part of the Sea Lion family of authors.
ABOUT THE AUTHOR:
Anne Elizabeth has BS in Business and a MS in Communications from Boston University. She is a published author, comic creator, and the monthly columnist for RT BOOK Reviews on the topic of comics, manga, and graphic novels. AE is a member of the Author's Guild; Romance Writers of America; and a regular presenter at the RT BOOK LOVERS Convention. Among her published credits are stories with Atria/Simon & Schuster, Highland Press, Dynamite Entertainment, and an upcoming trilogy with Sourcebooks. She lives in the mountains above San Diego with her husband, a retired Navy SEAL. You can visit AE on the Internet at http://www.anneelizabeth.net/
ABOUT SEA LION BOOKS:
Located in Atlanta, Georgia, Sea Lion Books LLC is a newly established publishing house, which specializes in all formats—hardcover, trade paperback, and mass market and in urban fantasy and young adult genres. Sea Lion Books LLC recent roster of authors include: International Bestselling author, Paulo Coelho, New York Times Bestselling authors, Richelle Mead and Richard A. Knaak plus more to be announced in the upcoming months. Contact David Dabel at 770-696-3452 or David(at)sealionbooks(dot)com . You can visit Sea Lion Books on the Internet at http://www.sealionbooks.com
# # #