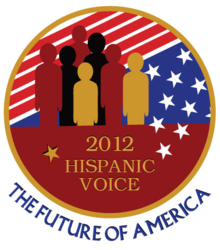 "The Town Halls will be objective, solution-oriented and forward-thinking." They will specifically address a road map that will empower participants to create the broader agenda items for Hispanics in America."

Glenn Llopis
Irvine, California (PRWEB) December 05, 2011
Hispanics are coming together to unveil their roadmap for the future of America. On January 11, 2012 – this will launch the 2012 Hispanic Voice Town Hall Tour across America that will invite city and community leaders and will be an open forum for Hispanics to express their voice, concerns and solutions for our community and how we can best contribute to the future of America. The Town Hall Tour is a non-partisan initiative that will run through the 2012 elections and serve to help Hispanics understand why we must be more mindful of their voting responsibilities. Hispanics must become more knowledgeable about why they matter as a growing community and more importantly, why they must enable themselves if Hispanic voices are to be heard and taken seriously.
According to 2012 Hispanic Voice Founder Glenn Llopis, "the Town Halls will be objective, solution-oriented and forward-thinking." They will specifically address a road map that will empower participants to create the broader agenda items for Hispanics in America that are actionable and that support a plan that can be implemented at a local, state and national level." This Town Hall Tour will be a unique opportunity to give Hispanics the chance to unite, empower and expand our authentic and powerful identity. City by city, the agenda and voices will mature. Each month, progress updates will be sent to the media to include a recap of the Tour's evolution and the acceptance and accountability by Hispanics for their new responsibilities as citizens for a better America.
The first tour stop will be held on January 11, 2012 at Hoiles Auditorium located at The Orange County Register at 625 N. Grand Ave., Santa Ana CA 92701. Registration is free, but attendance is limited. Registration for all Town Hall Tour events are to be completed online only at http://www.2012HispanicVoice.com. According to Ron Gonzales, news editor for The Orange County Register that will also moderate the event on January 11th, "I hope that our Town Hall discussion will provide a forum for people to talk about their concerns, to set priorities and to explore solutions. Some experts are saying that more than 12 million Latinos nationwide will vote in November. That number represents a significant voice in local, state and national elections – as well as a significant resource."
The 2012 election will be a defining moment for Hispanics and the roles we will play as citizens, leaders and influencers in America. The 2012 Hispanic Voice initiative will help build an agenda for Hispanics in America that will help the Hispanic Community understand why their must play a more active and influential part in American life in order to salvage their identity, respectability and future, and that of their children.
Each Town Hall Tour event will address the following the three step roadmap that all Hispanics need to take together:
Step 1: Unite our Community by Embracing our Cultural Values.
Step 2: Empower our Talent by Activating our Authentic Hispanic Leadership.
Step 3: Expand our Impact and Influence to Cultivate Economic Growth.
These (3) steps will accomplish several things for Hispanics, but in particular:
•Serve to eliminate the entitlement thinking that continues to grow in the Hispanic community.
•Course-correct the perception of the "Hispanic Brand" and change the attitudes toward what the growing Hispanic community can really deliver to the future of America.
•Inspire Hispanic Youth to embrace education and the American dream.
•Encourage corporations to support this conversation that directly impacts their business.
•Educate the rest of America so that we can all work as one.
According to Llopis, "the future of the Hispanic community affects everyone. Hispanics are the defining vote in 2012, yet we are having the wrong conversations about it. The Hispanics voice is being ignored and thus weakening our nation in the process. Most Americans are not aware of the negative implications and what it means to them and their future and we hope this powerful initiative can make a difference before it's too late."
About 2012 Hispanic Voice Initiative
2012 Hispanic Voice is a non-partisan initiative was formed to help Hispanics in America understand the responsibility of their voice and the resurgence of their authentic identity in business and society in order to cultivate sustainable economic prosperity in America. For more information on how you can host a Town Hall Tour event in your city and / or if you are interested in being a volunteer, please contact us at: ideas(at)2012HispanicVoice(dot)com.
###