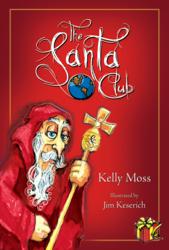 "Yes Virginia, there is a Santa Claus. He exists as certainly as love and generosity and devotion exist, and you know that they abound and give to your life its highest beauty and joy."
–Francis Pharcellus Church,
NY Sun Editorial 1887
(PRWEB) December 01, 2011
How do adults best approach the subject that fascinates and piques the imaginations of young children at holiday time – but can confound the adults in their lives?
In The Santa Club, author Kelly Moss shares the wisdom that became a tradition in her own family and is destined to delight children and adults alike with its charm and warmth.
Designed as a read-along with your inquiring child, this captivating story both answers the "dreaded Santa question" candidly and directs children's attention to the true meaning of Christmas and the charitable Christian spirit. It also answers the questions:

Why does Santa come at Christmas?
Who was the first Santa?
How do children learn the true meaning of the holiday?
The Santa Club tells the story of St. Nicholas and helps teach children the true meaning and spirit of the holiday. Beloved by parents, grandparents, teachers, and loved ones in the lives of all Christian children, The Santa Club offers the gold standard on how to teach children about the transition of receiving gifts to the art of giving. A heartfelt must-have story for anyone whose family incorporates gratitude into their Christmas holiday celebration, reading The Santa Club is a great way for the generations to come together in generosity, faith, and charitable spirit.
About the author:
Kelly Moss is a writer, entrepreneur, wife, and the mother of three children. Her two eldest sons are working actors in Los Angeles. The Santa Club came to be after her first son, now 21, asked about the existence of Santa Claus. Grandma Bertie, Moss' loving mother-in-law, explained the concept of the Santa Club to her grandson thus beginning a family tradition.
When not sharing the true spirit of Christmas with her loved ones and the children in her life, Moss is CEO of JoeBro Records and speaks to parents of child actors about "How to be a stage parent your child can be proud of" and "How to find an agent without getting taken." Kelly Moss and her husband Joe also have an adopted daughter from Kazakhstan. The family splits its time between Henderson, Nevada and Los Angeles, California.
About the illustrator:
James Keserich owns Taylor-Made Graphics and is the illustrator of several children's books.
###