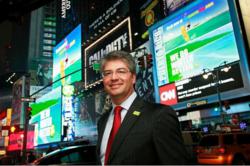 New York, NY (PRWEB) December 01, 2011
The Puerto Rico Tourism Company (PRTC) today unveiled its U.S. marketing campaign for the upcoming winter and 2012 tourism season during an event hosted by PRTC Executive Director, Mario Gonzalez-Lafuente. The "Puerto Rico Does It Better" campaign has already turned the Island into a thriving Caribbean hotspot and is directly responsible for a resurgence in U.S. visitors that travel to Puerto Rico, a feat that has provided a strong boost to the local economy.
In fact, Puerto Rico's tourism industry had a banner fiscal year 2011 (July 2010 – June 2011), as measured in hotel registrations, and attributes that in large part to the U.S. marketing campaign. Year-to-date hotel revenue per available room (RevPar) has increased 5.8 percent and average daily rate (ADR) by 4.3 percent compared to the same time period in 2010. Demand has been strong, with room night production reaching more than three million room nights sold, an increase of 4.4 percent. This translates to an increase of 8.2 percent in total additional revenue, the highest in Puerto Rico's history.
"The 'Puerto Rico Does it Better' campaign has been instrumental in reshaping how the Island does business," said Gonzalez-Lafuente. "The campaign played a significant role in the Island's first increase in visits from U.S. tourists in five years. The hospitality industry has been a major driver of economic growth, even during a recession. We are working to continue this trend and to make Puerto Rico the undisputed number-one vacation destination in the Caribbean for our fellow Americans."
The U.S. tourism campaign, which is budgeted at $20 million and runs through June 2012, uses both traditional and new, innovative media and marketing tactics to reach its audiences. This year's program places an increased emphasis on social media to reach American tourists. This includes search engine marketing and optimization, the launch of official Twitter feeds, YouTube videos and Flicker images, new smartphone applications and a re-vamped website, where would-be travelers can learn about the Island through written and video content, find promotional packages and even book travel directly.
The launch used nine of Times Square's famous electronic marquees simultaneously lit with the campaign's new ads. Specially branded television ads and programs, such as the Puerto Rico-sponsored 2011 Rockefeller Center Christmas Tree Lighting on November 30, will give viewers a spectacular look at the Island. Finally, a first-of-its-kind event, the Yanni at El Morro concert, will see both traditional and new media pushes. PBS will internationally broadcast the concert, which will take place on December 16-17, in 2012. It will also be promoted online via a Facebook sweepstakes that will award two grand prizes that include Puerto Rico vacations and VIP tickets for the show.
A story of ongoing success
Since the launch of "Puerto Rico Does It Better" in 2010, the Island has experienced consistent growth in its hospitality industry, now boasting the highest hotel occupancy rate in the Caribbean. Visitors enjoy new boutique, luxury and business facilities – which include a convention center, casinos, five-star golf courses and resort hotels – and new properties are expected to open an additional 2,100 rooms in 2012.
Additionally, this year sees the return of air service to Puerto Rico from Germany's Condor as well as by West Jet out of Toronto. New airline partners also include British Airways and Virgin Air in conjunction with Jet Blue.
In addition, the campaign is also showcasing how increased tourism reinvigorated all aspects of the Island's hospitality industry. Small- and mid-sized hotels and paradores – private, locally-owned boutique hotels that meet PRTC's standards of excellence – are updating their accommodations, amenities and services. Guided tours are available to meet almost any desire, including a Segway-driven program in Old San Juan known as "Information on the Go."
Puerto Rico offers multiple advantages and opportunities:

The ability to travel without a passport or need to change currency;
A modern, first-in-class infrastructure that includes one of the busiest ports in the Western hemisphere and an international airport served by 17 major airlines that provide flights from more than 50 destinations;
Breathtaking natural beauty, from unspoiled beaches to one of the most ecologically diverse rainforests in the world;
World-class luxury, including spas, fine dining, golf and haute-couture shopping;
Adventure opportunities that include kayaking on a bioluminescent bay or flying above a tropical forest on the world's second-highest zipline;
Rich colonial history on display across the Island, particularly in the life-sized museum that is Old San Juan;
Relaxed legal requirements for Americans seeking to have a destination wedding;
A highly-educated, highly-skilled local population that, according to Travel & Leisure's 2011 Edition of America's Favorite Cities, is among the friendliest, most stylish and most attractive in the U.S.
# # #