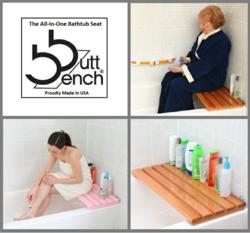 (PRWEB) December 19, 2011
According to a recent study by the Centers for Disease Control and Prevention, every year about 235,000 people visit emergency rooms because of injuries suffered in the bathroom. The Butt Bench was developed by Bath Extras LLC for any person who faces challenges getting in and out of the tub, as well as for anyone who could use extra space and a comfortable seat in the shower. The bathroom can be a hazardous place for people of all ages while bathing, showering, and getting in and out of the tub. A recent article in the New York Times highlighted these dangers by pointing out that each year falls or accidents in the shower result in a loss of independence, dignity or mobility for thousands of people. The Butt Bench is an ideal solution for individuals with a disability, injury or limited mobility.
Bath Extras LLC uses the highest-quality, American Cedar and Pine for its seats, with each capable of holding 300lbs of weight. The Butt Bench is also fitted with a leading-edge suction mechanism to attach itself firmly to the bathroom wall, ensuring that it will be a safe place to sit, or lean on, in the shower. Maria, from New York City, ordered a Butt Bench for her mother:
"My mother is 72 and it's hard for her to stand in the shower for long periods of time. My friend recommended the Butt Bench and after a few days she was so happy and impressed that I had to get one for myself!"
The Butt Bench has a multitude of uses. It is a safe and sturdy bench for bathing infants, toddlers or pets, and it is also great for at home senior care. One user said,
"I use the Butt Bench to put all of my shampoo bottles on, and I can now shave my legs comfortably. It also helps me a lot when I bathe my dog. I can sit comfortably and not have to bend over for a long time, which hurts my back."
Each Butt Bench is manufactured in the USA by small businesses that help sustain families and companies in five different states. Butt Bench, and other bath safety products, can be found at the Bath Extras website, http://www.buttbench.com.
About Bath Extras LLC:
Bath Extras LLC designs and manufactures the Butt Bench, a patent-pending bath seat made of natural wood. This product was first created in 2006, and since then the company has expanded their inventory to include a range of bath safety products and shower sprays. The goal of the team at Bath Extras is to make bathing safer and easier for people of all ages. Visit their blog or webpage today for more information.
###